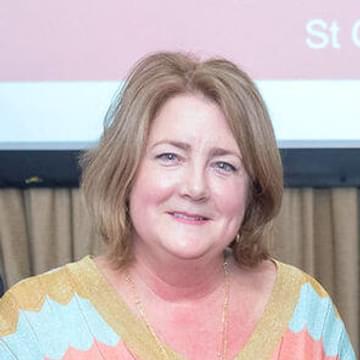 Ruth Stross
MS Specialist Nurse
Epsom and St Helier University Hospitals NHS Trust
Ruth trained at the Royal Free Hospital, London, working in Neurology in her first year as a student nurse in 1988 and has never looked back! Ruth is passionate about improving the care of people with a long-term neurological condition and has worked as a specialist nurse in Multiple Sclerosis, Motor Neurone disease, Parkinson's and Movement Disorders (MD). Ruth has seen the emphasis of managing patients with Multiple Sclerosis (MS) change from very basic reactive symptom management to pro-active disease modifying therapies, giving patients hope.
During her career Ruth has helped set up a multi-disciplinary clinic for patients with Motor Neurone Disease (MND) in Australia; she set up the Neurology specialist nurse services at Kingston hospital as the lead nurse; she also set up the MS nursing service in Richmond and Movement Disorder(MD) nursing service at Charing Cross Hospital. Ruth now works within a community neuro rehabilitation service as an MS specialist nurse liasing with over 6 specialist centres to enable patients to be cared for close to home.
Ruth won the Neurology Academy MS MasterClass intermodule project in December 2019 with a joint venture mapping pathways for people with MS across Surrey and is currently on the MS Leaders Academy inaugural course who presented their work 'MS Unite' at raising the Bar in November 2020; she has presented at the annual MS Trust conference on an Integrated care Pathway (ICP) for Richmond in 2015 and in 2020 on her Home Urine test kit developed during lockdown; Ruth was invited by the MS Trust to sit on the MS decisions editorial panel in 2015; she has worked with NHS Right Care to develop ideas and potential solutions for future MS services; and was lead author on 2 documents used nationally in MD management. During 2020 Ruth was involved in various national webinars with Neurology Academy raising the profile of improving care for people with MS during COVID-19.
At home Ruth enjoys painting (on canvas), photography and juggling life with two young children. Ruth remains dedicated to improving care for people diagnosed with a long term neurological condition recognising her current role and her new role with Neurology Academy enable her to influence the care and management of people with long term neurological conditions.
CMSC 2020 reports:
Watch video:
Ruth Stross is a contributor to the following academies
Events
Ruth Stross is speaking at these forthcoming events...
---
On Demand Events
Ruth Stross spoke at these On Demand events...
---
---
---
---
---
---
---