How COVID-19 influenced MS Service in Hull – Implementation of Official Guidelines and Recommendations
---
By
Dr Iulia Danciut, an associate specialist from Hull University Teaching Hospitals NHS Trust
---
All of our attendees carry out a piece of research in an area of MS clinical practice or treatment that interests them.
This snapshot, which was a runner up in the MS9 project awards, gives you a quick idea of what they found and why. If you want to learn more, just click through to the full poster, or follow the links within the snapshot.
If you would like to contact the alumni who did the research, drop us a line and we'll put you in touch where possible.
Aim
To evaluate:
the impact that COVID-19 had on the MS service in Hull,
how guidance was implemented
what improvements could be made.
Headlines
The MS service in Hull was affected by COVID across several domains.
A change of practice plan was developed and implemented.
Implementation of changes in unprecedented times is dependent on mental flexibility and proactive behaviours.
Key findings
Clear actionable planning was put in place across 5 domains to address change:

staff redeployment / role changes
access to MS specialist doctors and nurses
access to treatment
safety monitoring
treatment decisions

National guidance from the ABN, which evolved throughout the early months of the COVID-19 pandemic, was followed.
Some areas of improvement were identified.
More MS Academy COVID-19 Projects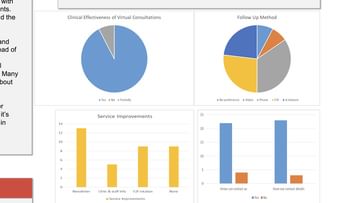 Encouraging excellence, developing leaders, inspiring change
MS Academy was established five years ago and in that time has accomplished a huge amount. The six different levels of specialist MS training are dedicated to case-based learning and practical application of cutting edge research. Home to national programme Raising the Bar and the fantastic workstream content it is producing, this is an exciting Academy to belong to.