Improve the management of relapses in emergency care
---
By
Dr Antonella Benvenga, Consultant Neurologist, NHS Fife
---
MS Intermediate MasterClass 8, 2019
After analyzing data regarding hospitalizations of MS patients in NHF Fife (data provided at MS master-class module 1), those showed that a high number of MS patients were admitted for emergency over the past years. In 2015/2016, the total admissions were 27 patients (routine) and 19 patients-about 40% of the total number- (emergency). Looking at the cost, almost 50% of the total cost (£ 32.619) accounted for emergency.
A reflexion was made about the possibility to improve the management of relapses for MS patients, in order to reduce the admissions for emergency and a further discussion with the MS nurse followed. We discussed about a way to improve the management of relapses in emergency care/GP practice reducing admissions into hospital and ensuring patients presenting relapses would receive the same standard of care according to current evidence.
We felt that, given the high turn-over of doctors in A&E and GP practice, at present there is a lack of knowledge about the management of relapses in primary care, leading to excessive admissions to hospital.
As first step, we created a Fife Relapse management toolkit (in agreement with guidelines published on MS Trust) as well as a MS relapse infective screen was made available on TrakCare. The second step was sharing the guideline with GP practice and emergency departments. This was done firstly via e-mail alert and intranet system, where the toolkit was made available.
The further steps will be organizing meetings and talks in the hospital with doctors working in acute service that will be open to GPs as well. Finally, as a way to test the efficacy of this method, we aim to re-check data regarding admissions comparing the years 2018/2019 and 2019,2020 to ensure that a statistical difference emergences, as well on-call consultants will be asked to take notes of calls received for relapses.
More MS Academy Relapse Projects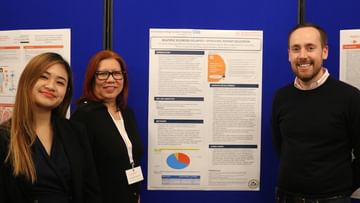 Encouraging excellence, developing leaders, inspiring change
MS Academy was established five years ago and in that time has accomplished a huge amount. The six different levels of specialist MS training are dedicated to case-based learning and practical application of cutting edge research. Home to national programme Raising the Bar and the fantastic workstream content it is producing, this is an exciting Academy to belong to.