Multiple Sclerosis management during the COVID-19 pandemic
---
By
Dr Ricardo Reis, Neurologist Resident, Centro Hospitalar de São João
---
Aim
To assess the impact of COVID-associated changes in healthcare provision on people with MS, with a focus on psychological well-being, physical disability, healthcare access, and healthcare satisfaction.
Headlines
During the first months of the pandemic, stay-at-home orders resulted in a shift from face-to-face to remote appointments for people with MS.
This adaptation may have impacted on their perceived health status and psychological well-being.
Key findings
A total of 195 people with MS responded to a survey sent out between April and June 2020. It found:
62% had sought access to MS care; of these 56% said a telephone appointment had been adequate and 60% were satisfied with the information and recommendations that were provided
70% said their disease had remained stable during the first few months of the pandemic
People who said they had felt worse during the pandemic had worse fatigue and sleep quality scores than those recorded during their last face-to-face consultation
Recommendations
Given the reported levels of patient satisfaction, the COVID-19 experience may change the way MS clinics evaluate and follow their patients as telemedicine emerges as a valuable tool.
More MS Academy COVID-19 Projects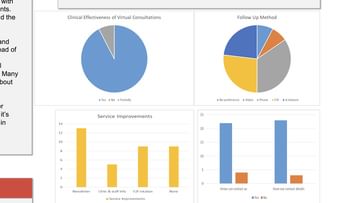 Encouraging excellence, developing leaders, inspiring change
MS Academy was established five years ago and in that time has accomplished a huge amount. The six different levels of specialist MS training are dedicated to case-based learning and practical application of cutting edge research. Home to national programme Raising the Bar and the fantastic workstream content it is producing, this is an exciting Academy to belong to.