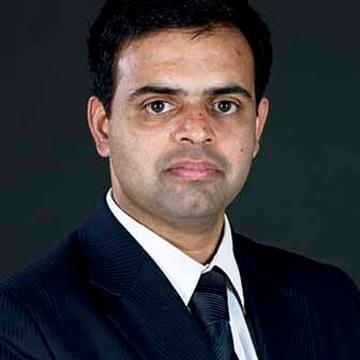 Prof Jalesh Panicker
Consultant neurologist
University College London Hospitals NHS Foundation Trust
Prof Jalesh Panicker is a consultant neurologist in Uro-neurology at The National Hospital for Neurology and Neurosurgery, and is professor in Uro-Neurology and Clinical Neurology at the University College London (UCL) Queen Square Institute of Neurology.
He is clinical lead for Uro-Neurology, and together with a team that includes a urologist, uro-gynaecologist, gastroenterologist, nursing, health psychologist, pelvic health physiotherapist and clinical scientists performing urodynamics and pelvic neurophysiology tests, the Department of Uro-Neurology offers a holistic, multi-disciplinary approach to the evaluation and treatment of bladder, bowel and sexual dysfunction in patients with established and suspected neurological disorders.
Prof Panicker qualified in 1996 and subsequently trained in both general medicine and neurology. He became involved in the management of patients with neurogenic bladder dysfunction early in his career when setting up a neurorehabilitation service. He maintains an academic and clinical interest in Uro-Neurology and pelvic neurology and his primary interest is in understanding the neural control of the lower urinary tract, and the neurological basis for bladder and sexual dysfunction following inflammatory, degenerative and traumatic disorders of the nervous system and their management.
In his dedicated uro-neurology clinics, he sees patients across a wide range of neurological disorders that include multiple sclerosis and related inflammatory disorders, dementias, Parkinson's disease and Parkinson's plus syndromes, spinal cord tumour and traumatic disorders such as cauda equina syndrome. A growing number of patients with unexplained bladder, sexual and bowel dysfunction are being referred for evaluating a possible neurological cause, and he leads a dedicated pelvic neurology service that includes pelvic neurophysiology testing evaluating the afferent and efferent sacral somatic innervation, urodynamics testing and has close links with neuroradiology. The department runs a dedicated service for young women presenting with unexplained urinary retention, many of whom ultimately are found to have a primary disorder of sphincter relaxation (Fowler's syndrome).
Prof Panicker is involved in the training of health care professionals from the United Kingdom and overseas across different specialities. He is involved in the running of MSc courses and PhD supervision at UCL, and his clinical research is supported by external grants. He has edited two books, and published more than 200 peer-reviewed articles and 35 book chapters.
Prof Jalesh Panicker is a contributor to the following academies
Events
Prof Jalesh Panicker is speaking at these forthcoming events...
---
---
On Demand Events
Prof Jalesh Panicker spoke at these On Demand events...
---