ABH Special Interest Group (SIG) update - MS Cutting Edge Science
Event reports
---
---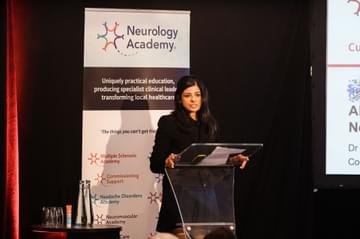 This session is part of a series of write-ups on Cutting Edge Science for Multiple Sclerosis 2021; the conference summary for which is here. The conference was chaired by Dr Wallace Brownlee.
The ABN's Special Interest Group (SIG) for MS and neuroinflammation is an opportunity for the neurology community to come together the shape interprofessional education.
That's according to Dr Tarunya Arun, who said the newly restructured SIG gives all those interested in MS and neuroinflammation the chance to work together to "enhance research and clinical practice, and work towards dissemination of best practice".
While it is affiliated to the ABN, the SIG, which is made up of consultants, trainee neurologists, scientists, allied health professionals and more, is independent of the association.
And unlike the ABN's advisory group, which is appointed by the ABN to respond to NHS consultation documents and publish guidelines and policy statements, the SIG works to develop education activities.
Tarunya, who chairs the group, believes that this education should "certainly not be unilateral", but invited delegates to share their thoughts on what they thought was needed.
"We hear a lot about MS, but obviously we need to hear about other neuroinflammatory areas also… there are many other conditions that we deal with in our routine lives as neurologists which we perhaps do not have a forum to discuss. I would like to look at the SIG as an opportunity to take that forward."
Dr Tarunya Arun
The SIG also has a role in helping the community to share research plans and expertise, using the reach of the ABN to reach multiple centres, as well as providing networking opportunities, she said.
"One thing we could be doing better is the trainee aspects, giving the future neuroinflammatory neurologists the opportunity to meet experts in the field."
Historically, the group has a one-hour meeting during the ABN's main annual conference, but last year there was also a half-day session, which took a virtual, in person hybrid form, in the autumn.
Future opportunities
Future opportunities for the SIG network include:
Contributing to meeting content and helping to plan future meetings
Sharing research and audits
Rationalising therapy
Sharing recruitment opportunities
Work with the ABN advisory group, MS registries and trials consortium, and MS Academy to exchange ideas
---
This activity has been supported by sponsorship from Roche Products Ltd, Biogen Idec Ltd and Janssen-Cilag Ltd. The sponsors have had no control over the educational content of this activity.

Related articles
Encouraging excellence, developing leaders, inspiring change
MS Academy was established five years ago and in that time has accomplished a huge amount. The six different levels of specialist MS training are dedicated to case-based learning and practical application of cutting edge research. Home to national programme Raising the Bar and the fantastic workstream content it is producing, this is an exciting Academy to belong to.