App launches to capture lived neurological experience
Knowledge

---
---
The Neurological Alliance and the Brain and Spine Foundation have partnered to launch a new digital app to capture the lived experiences of people affected by neurological conditions.

The app, 'NeuroLifeNow' has been designed to get a better picture of people's experiences living with neurological conditions, prompted by the service disruptions in treatment, care and support that have been exacerbated by COVID-19 - something made clear through the Neurological Alliances' survey last year.
It intends to seek information from users about their experiences via surveys, to provide users with feedback on these surveys, news updates, and to offer opportunities to users to shape the future of the platform.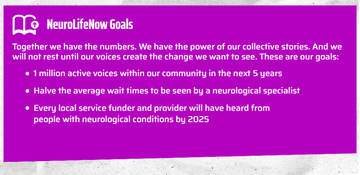 Taken from the NeuroLifeNow homepage at https://www.neurolifenow.org/
The app's pilot phase runs until the end of March and aims to reach at least 1,000 people affected by a neurological condition. The pilot will be used to assess how the app is working and how it will be used in the future.
The continuous lived experience data will be used as a means of influencing planning, funding and delivery of services, giving an opportunity to commissioners and service providers to understand the true needs of their population and to make decisions in relation to this.
Read the full press release here or visit the web platform, NeuroLifeNow or use #MyNeuroLife to engage with the work on Twitter or on LinkedIn.