Celebrating 20 years of Parkinson's Academy
News
---
---

Unbelievably, Parkinson's Academy has now been running for a full twenty years! To celebrate we want to take a moment to look at where we have come from, where we are now, to find out what sort of an impact our education has had on the Parkinson's community, and to highlight some of the incredible people who have made the Academy the success it is today.

'A great initiative. It stands out across the spectrum of medical education courses.'
Academy delegate
Over the next few weeks, we'll be publishing a range of short articles, infographics and videos sharing our story so far, and looking at twenty years of transformative education.

From why our managing director believes in the benefits of failing, to a peek into eight individuals' journeys with the Academy, our impact abroad, and your responses to our mini-survey asking whether our courses have impacted your practice, we hope you'll join us in celebrating twenty years of transformative education!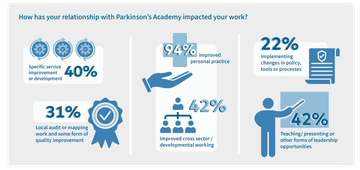 A sneak peak into some of the infographs we will be sharing as part of our 20 years of Parkinson's Academy celebration
Related articles
'The things you can't get from the books'
Parkinson's Academy, our original and longest running Academy, houses 20 years of inspirational projects, resources, and evidence for improving outcomes for people with Parkinson's. Led by co-founder and educational director Dr Peter Fletcher, the Academy has a truly collegiate feel and prides itself on delivering 'the things you can't get from books' - a practical learning model which inspires all Neurology Academy courses.