Debate: Are the doses of anti-CD20 therapy overdosed? - MS Cutting Edge Science
Event reports
---
---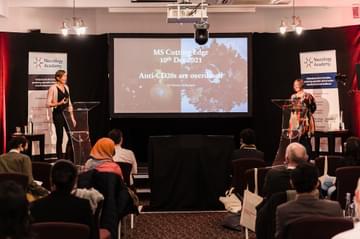 This session is part of a series of write-ups on Cutting Edge Science for Multiple Sclerosis 2021; the conference summary for which is here. The conference was chaired by Dr Wallace Brownlee.
Yes: Dr Emma Tallantyre
Anti-CD20 treatments are valuable disease modifying therapies (DMTs). However, dose finding is based on short-term data from small cohorts, and real-world use has shown the treatment risks to be cumulative, said Dr Emma Tallantyre.
Data have suggested that the longer a patient is on the treatment, the higher the risk of hypogammaglobulinemia, which is associated with infection risk.

"We need to rein ourselves back in and think carefully and sensibly about how to use these therapies, not just stick with a dose that was a little arbitrary, and drawn from quite short-term, small studies."
Dr Emma Tallantyre
She went on to say that because B-cell repopulation following anti-CD20 therapy is highly varied, intervals can be tailored to the individual.
Emma pointed to a study, presented as a poster at ECTRIMS in 2021, in which several UK sites pooled data on 819 ocrelizumab patients who did not receive a dose due to the COVID pandemic. Of these, 106 (13%) had an extended interval of more than seven months. There was no evidence of disease activity, and the efficacy of the drug was maintained.
It's about using common sense, she said. "If we are giving people slightly too much anti-CD20 we just need to personalise it to maintain that balance of safety and efficacy."
No: Dr Leonora Fisniku
There is no compelling evidence to confirm that the licensed doses of anti-CD20 are too high, and any change in practice must be based on well designed, robust trials.
Dr Leonora Fisniku said that longitudinal data presented at ECTRIMS, at the end of last year, show that the treatments are both safe and very effective for people with highly active MS.
Pointing to an eight-year follow up study, she said: "It was reassuring that when the safety data was compared to the Danish MS Registry, the safety profile was similar. The culminative standardised incidence rate of all malignancies and female breast cancer remained in the range reported in the registries."
Another, which looked at the effect of ofatumumab in relapsing remitting MS over three-and-a-half-years, found no association between decreased immunoglobulin levels and the risk of serious infection.
If there is a suggestion of overdosing, it can only be addressed through the conduct of well-designed trials, argued Leonora.

"If there is a suggestion of overdosing, it can only be addressed through the conduct of well-designed trials,"
Dr Leonora Fisniku
"Do we need to remain vigilant? Absolutely. But the long-term safety profile is incomplete for all agents and continuous vigilance is always required.
"Are there alternatives that are better? Perhaps. But we need well-designed trials if we are to answer that question."
References
Tallantyre, E. C., Whittam, D. H., Jolles, S., Paling, D., Constantinesecu, C., Robertson, N. P., & Jacob, A. (2018). Secondary antibody deficiency: a complication of anti-CD20 therapy for neuroinflammation. Journal of neurology, 265(5), 1115-1122. https://link.springer.com/arti...
ECTRIMS 2021 poster 826. C Allen et al. Disease activity and CD19+ B-cell counts with extended interval dosing of ocrelizumab.
Wolinsky, J., Vermersch, P., Hartung, H. P., Naismith, R. T., Airas, L., Coutant, K., ... & Kappos, L. (2020, December). Sustained reduction in 48-week confirmed disability progression in patients with PPMS treated with ocrelizumab in the ORATORIO OLE: 7-year follow-up. In MULTIPLE SCLEROSIS JOURNAL (Vol. 26, No. 3_ SUPPL, pp. 234-235). 1 OLIVERS YARD, 55 CITY ROAD, LONDON EC1Y 1SP, ENGLAND: SAGE PUBLICATIONS LTD.
Bar-Or, A., De Seze, J., Correale, J., Cross, A., Kappos, L., Selmaj, K., ... & Hauser, S. (2021). Effect of Ofatumumab on Serum Immunoglobulin Levels and Infection Risk in Relapsing Multiple Sclerosis (RMS)
---
This activity has been supported by sponsorship from Roche Products Ltd, Biogen Idec Ltd and Janssen-Cilag Ltd. The sponsors have had no control over the educational content of this activity.

Related articles
Encouraging excellence, developing leaders, inspiring change
MS Academy was established five years ago and in that time has accomplished a huge amount. The six different levels of specialist MS training are dedicated to case-based learning and practical application of cutting edge research. Home to national programme Raising the Bar and the fantastic workstream content it is producing, this is an exciting Academy to belong to.