Debate: The risks of using monoclonal antibodies in pregnant and breast-feeding women with MS are over egged - MS Cutting Edge Science
Event reports
---
---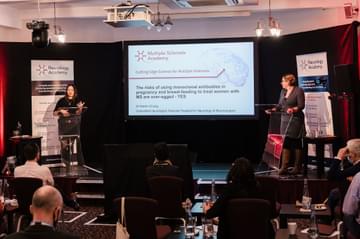 This session is part of a series of write-ups on Cutting Edge Science for Multiple Sclerosis 2021; the conference summary for which is here. The conference was chaired by Dr Wallace Brownlee.
Real-world data (RWD) suggest the risks of using monoclonal antibodies (MAbs) in pregnant and breast-feeding women with MS are overstated in current guidelines
Dr Karen Chung
Data from the German Multiple Sclerosis and Pregnancy Registry, for example, found no spontaneous abortions or major malformations among women who had received natalizumab during pregnancy.
Exposure in the third trimester, however, was associated with haematological abnormalities and lower birth weight. "For that reason, we do not infuse women beyond 32 to 34 weeks gestation," said Karen explaining that the risk of rebound upon treatment withdrawal was high.
While there is limited pregnancy data for ocrelizumab, we do have RWD relating to rituximab, which is also an immunoglobulin G1 (IgG1) MAb that targets B-cells with CD20 molecules. A study of 37 pregnancies in 34 women with MS after at least one dose of rituximab, for example, found "no concerning safety signals".
Moving on to lactation, Karen said the detectable doses of natalizumab and IgG1 in breast milk was "extremely low". Furthermore, the volumes that would move from the baby's gut into their circulation would be "even lower", she reasoned. "There's no clear safety signal associated with rituximab and pregnancy," she said.
Summing up, Karen explained that those with active MS wishing to become pregnant were usually younger and earlier on the disease course. "The benefits of remaining on or starting a MAb will certainly outweigh the risks in some people," she said.
No: Dr Ruth Dobson
Evidence of absence is not the same as absence of evidence, said Dr Ruth Dobson, adding that we simply do not have enough data to inform patients properly.
We understand "remarkably little" about the development of the foetal immune system, she said, and have "no idea" of the long-term implications of immunological abnormalities at birth.
Natalizumab, is increasingly used in pregnancy, but only after full consideration and discussion of the risks and benefits to both mother and baby. This includes explaining that pharmacovigilance studies may be underpowered to pick up the full range of drug effects.
Data from the Tysabri pregnancy registry, published in 2016, found 9.2% of new-born babies from 317 pregnancies had a congenital abnormality and 5.7% had a major congenial abnormality (MCA). The background rate, said Ruth, could be as low as 2%.
Exposure in late pregnancy can lead to haematological abnormalities. These include thrombocytopaenia and anaemia, as well as related adverse events including intracerebral haemorrhage or hypoxia.
Turing to anti-CD20s, Ruth looked at the Ocrevus pregnancy register. Of the 604 pregnancies with outcomes, seven (>10%) have reported MCM. Among 235 women who were exposed to ocrelizumab within three months of pregnancy, 29 (12.3%) experienced spontaneous abortion, and there were four (1.7%) stillbirths.
In terms of lactation, there is no evidence to suggest even low levels of MAb in breastmilk is safe, Ruth argued.
Clinicians need to be honest about the risk to both mothers and babies, and counsel patients appropriately, she concluded, reiterating that the drugs are not licenced in pregnant women.
References
Ciplea, A. I., Langer-Gould, A., de Vries, A., Schaap, T., Thiel, S., Ringelstein, M., ... & Hellwig, K. (2020). Monoclonal antibody treatment during pregnancy and/or lactation in women with MS or neuromyelitis optica spectrum disorder. Neurology-Neuroimmunology Neuroinflammation, 7(4). https://nn.neurology.org/conte...
Smith, J. B., Hellwig, K., Fink, K., Lyell, D. J., Piehl, F., & Langer-Gould, A. (2020). Rituximab, MS, and pregnancy. Neurology-Neuroimmunology Neuroinflammation, 7(4). https://pubmed.ncbi.nlm.nih.go...
Langer-Gould, A., Smith, J. B., Albers, K. B., Xiang, A. H., Wu, J., Kerezsi, E. H., ... & Van Den Eeden, S. K. (2020). Pregnancy-related relapses and breastfeeding in a contemporary multiple sclerosis cohort. Neurology, 94(18), e1939-e1949. https://n.neurology.org/content/94/18/e1939.abstract
Friend, S., Richman, S., Bloomgren, G., Cristiano, L. M., & Wenten, M. (2016). Evaluation of pregnancy outcomes from the Tysabri®(natalizumab) pregnancy exposure registry: a global, observational, follow-up study. BMC neurology, 16(1), 1-9. https://www.ncbi.nlm.nih.gov/p...
Dobson, R., Bove, R., Borriello, F., Craveiro, L., Ferreira, G., Hellwig, K., ... & Oreja-Guevara, C. (2021). Pregnancy and infant outcomes in women receiving ocrelizumab for the treatment of multiple sclerosis. https://www.researchgate.net/p...
---
This activity has been supported by sponsorship from Roche Products Ltd, Biogen Idec Ltd and Janssen-Cilag Ltd. The sponsors have had no control over the educational content of this activity.

Related articles
Encouraging excellence, developing leaders, inspiring change
MS Academy was established five years ago and in that time has accomplished a huge amount. The six different levels of specialist MS training are dedicated to case-based learning and practical application of cutting edge research. Home to national programme Raising the Bar and the fantastic workstream content it is producing, this is an exciting Academy to belong to.