Dementia MasterClass 7 - project finalists review
News
---
---
Neurology Academy's seventh Dementia MasterClass has just ended; another cohort of neurologists, care of the elderly physicians, old age psychiatrists, nurse specialists, therapists and GP's have completed this expert training.
Led by a proactive faculty of clinicians determined to see improvement in the way we prevent, diagnose and manage dementias, Dementia Academy supports healthcare professionals with the latest tools, resources and training to do just that - and to date each course has been fully booked.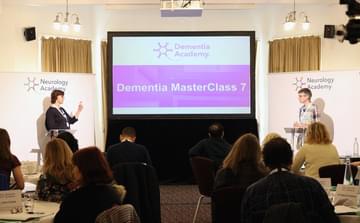 As with all Academies, there is a strong emphasis on the practical application of learning. With dementia, this brings a strong focus on prevention and risk modification, equipping clinicians with both the knowledge and tools they need to transform their practice.
This collegiate community is working hard to promote brain health and dementia prevention as well as early diagnosis and optimal management.
As part of the two-module training programme each delegate undertakes an inter-module quality improvement (QI) project in their own area. There were many notable projects in this cohort but the top three that received special mention were:
1. Dr Michelle McCarthy, consultant community geriatrician, and Clare O'Donnell for their work in developing a frailty memory service
The Community Geriatrician team (CGT) based at the Countess of Chester Hospital is a multidisciplinary team offering comprehensive assessments at home to older patients with frailty. The team review frail patients with complex co-morbidity identified as having an acute/sub-acute problem that threatens the risk of hospital admission.
Declining cognition is an ever-increasingly common concern in our patient group and a significant risk factor for admission. Frail housebound patients often struggle to access memory services and therefore remain undiagnosed. They often require a more holistic MDT approach in the home environment. We therefore identified a need to offer a dedicated frailty memory service within our team enabling better access to diagnosis and assessment of memory concerns in complex frail patients.
2.Dr Siobhan Collins, consultant psychiatrist and Dr Yetunde Faluyi, old age psychiatrist for their work developing a self-screening tool for sensory impairment amongst older people to enable dementia risk modification
This QI project looked at developing a self screening questionnaire for mental, cognitive, vision and hearing problems in older adults which is amongst the top ten public health challenges in Europe. Around seven in ten Europeans over the age of 65 live with either sight or hearing loss and over 90% of older adults with cognitive impairment have hearing loss with nearly one third of people with
dementia having vision impairment. In spite of this high rate of comorbidity, hearing and vision impairments continue to be under-recognised, under- diagnosed and undertreated.
3. Dr Murudappa Bhattad, consultant geriatrician and colleague William McKeown for their work on medication reviews for inpatients with dementia to reduce potentially inappropriate medications and any associated impact on cognition
This Prescription Review of Inpatients with Dementia (PRIDE) project was established to reduce the number of potentially inappropriate medication (PIM) given to inpatients admitted to hospital with dementia by 50% over a 12 month period.
Patients with dementia have a longer than average length of stay (LOS) when admitted to hospital and polypharmacy is common in this. Common PIMs include anticholinergics which have the potential to adversely affect cognition. The project has so far improved knowledge of deprescribing in dementia projects and the review year will be reported as soon as data is available.
All projects can be seen online and yet again the Academy demonstrates the power of education to bring about service transformation.
Click for further details of on demand courses, webinars and residential modules for dementia and cognitive impairment
Click dementia resources for useful tools including the Blueprint for Brain health

Related articles
Promoting prevention, supporting management
Led by proactive clinicians determined to see improvement in the way we prevent, diagnose and manage dementias, Dementia Academy supports healthcare professionals with the latest tools, resources and courses to do just that.