Educational needs in general practice - help with headaches, say GPs
News
---
---
Neurology Academy is always seeking to provide the educational support that healthcare practitioners need in order to deliver the best possible care to their patients. Initially targeting consultants and neurology specialists, over the past few years its educational offering has expanded to support increasingly varied roles, across consultancy, nursing, therapy and pharmacy.

However, there have been a limited number of General Practitioners through our doors, despite the importance of their role in supporting holistic management of neurological conditions, and in supporting effective self-management amongst the people living with them.

MS Academy's Strategic Director, Dr David Paling, recently attended a conference for GPs. Whilst there, he posed a few questions to the general practice community in a session called 'Target neurology', and found that there may be a need for educational support around neurological conditions - specifically headache and migraine (fig 1).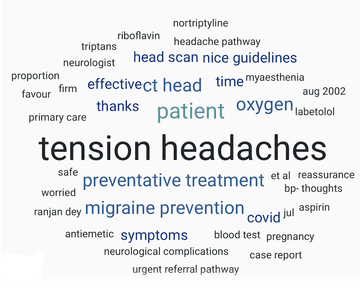 Fig 1: Word cloud generated from a sli.do question session with GPs, regarding neurology education requirements in general practice
More than half of GPs responding felt that they were seeing less neurological patients since the beginning of the coronavirus pandemic, and more than a third reported making fewer referrals to secondary care, there was still an overwhelming interest in targeted neurology education.

(This in itself raises questions around whether people are seeking the support they need, where they are getting support from, and whether there is a backlog of people experiencing health concerns which they are not raising. This is a concern which has been raised from various quarters in the past several months, and which may in itself place a future burden on healthcare services, including general practice and community care.)

Despite currently seeing fewer patients with neurological conditions, however, 91% of the attendees said they would be interested in attending a neurology course aimed at general practice, with over 60% requesting this be delivered virtually.
As the word cloud demonstrates, the key focus of those GPs asked was around tension headaches, migraine prevention, and preventative treatment in general. Neurology Academy is now considering how best to support GPs with these needs.

In the meantime, one of the areas the conference highlighted was a need for a clear pathway. Often, national pathways and guidance exist but are not known of. In the case of headache and migraine, there are two national pathways which may be useful to access, in addition to NICE's own.

The Migraine Centre has developed 'Guidance for the management of headache in general practice' specifically seeking to help GPs with common difficulties encountered in managing people with headache within primary care (fig 2).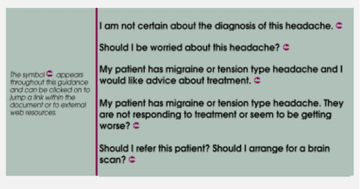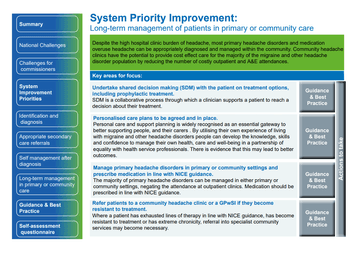 Fig 3: Page 1 of the section on long-term management of patients with headache or migraine within primary or community care, taken from the Rightcare Headache and Migraine Toolkit
The toolkit also contains best practice, tools, guidance and other resources relating to headache and migraine diagnosis and management, including some common misinterpretations of headache which can lead to referral and a summarised knowledge gap relating to that misinterpretation (fig 4).