Effective management of epilepsy starts with commissioners
News
---
---
During this Epilepsy Awareness Week, we want to highlight the importance of managing epilepsy properly - from the point of service planning onwards. Often, epilepsy management can be considered a clinical responsibility, yet effective management requires dedicated action from commissioners and service planners.
According to the Voice for Epilepsy,
'Epilepsy is the most common, serious neurological disorder worldwide. More than half a million people in the UK have epilepsy - that's 1 in every 100 people. Epilepsy can affect anyone, of any age, race, or sex, at any time from any walk of life.'
This makes it both an essential area to consider when commissioning for any population, but also a challenge to do well. Effective planning and service delivery often includes partnership provision, multi-disciplinary working, and effective transition services. It crosses health, social care, education and more, and within healthcare alone spans numerous services and departments including primary and community, paediatric and maternity, neurology and emergency.
There are, however, specific resources available to help commissioners to navigate this challenging area. NHS RightCare, with support from key non-profit organisations for epilepsy, have developed the Right Care Epilepsy Toolkit.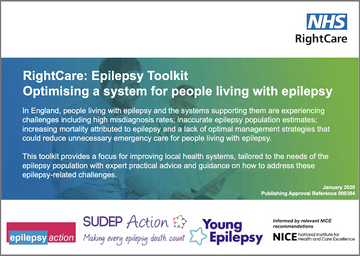 Front page of the Right Care Epilepsy Toolkit
Commissioners are urged by the RightCare epilepsy toolkit to to work across systems ensuring that where possible the following improvement priorities are applied:
Identification and segmentation of epilepsy population

Misdiagnosis

Taking a risk management approach to mortality

Access to epilepsy specific services

Support for specific patient groups including children and young people, children transitioning to adult services, people with learning disabilities, pregnant women and older people.

Mental health and emotional wellbeing support

System-wide education and training on epilepsy

Medicines optimisation

Coordination of care

Personalised care

Experience of care
Another recently developed resource provides a practical approach to supporting people with epilepsy and learning disabilities. Epilepsy is particularly common amongst people with intellectual disability (ID) compared with the general population (van Blarikom 2006). The Purple Light service improvement toolkit comprises a range of tools and resources, centred around a self-assessment checklist, designed to be filled out in partnership across epilepsy, ID, and primary care services, and with people affected by epilepsy and ID.
The in-depth assessment tool is accessible online via the Royal College of Physicians and uses red-amber-green status scoring to highlight potential problems or areas for improvement and is designed to encourage partnership approaches to service improvement, and to be used at regular intervals to assess progress.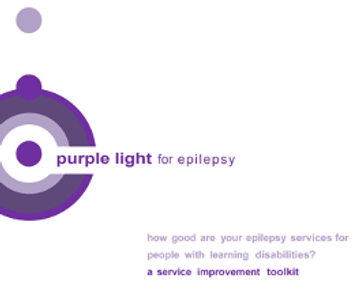 On 27th May, Neurology Network Manager's Meeting - a specifically developed event for commissioners and service managers seeking to understand how to plan effectively for neurological services and support locally - offers a dedicated session on epilepsy management.

Phil Tittensor, consultant nurse for the Epilepsies at the Royal Wolverhampton NHS Trust and Caryn Jory, Epilepsy specialist nurse at Cornwall Partnership NHS Foundation Trust will deliver a session on delivering the optimal pathway for epilepsy, sharing practical examples on how to translate the OPTIMUM clinical pathway to local services, through expert planning and provision.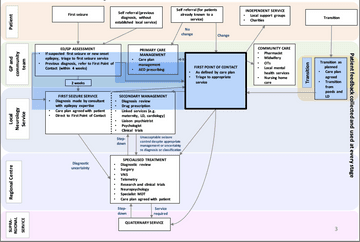 The overview pathway for the OPTIMUM clinical pathway for epilepsy
There are still a few places available for next week's Neurology Network Manager's Meeting. Good epilepsy management starts at commissioning level - and we want to support our commissioners with the tools, knowledge, confidence and peer-network to start it now.
Related articles
Optimised education, compassionate care
Epilepsy Academy seeks to raise awareness of epilepsy, equipping professionals to deliver compassionate, holistic care that transforms people's lives.