First ever Alzheimer's MasterClass!
Event reports
---
---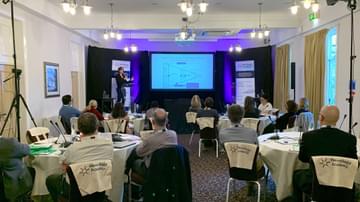 Prof Iracema Leroi, November 2021
On 11th November, 16 healthcare professionals from across the UK gathered to hone their understanding of assessment, diagnosis, treatment and management of Alzheimer's disease.
The mix of consultant geriatricians and psychiatrists, specialist registrars, and specialist nurses gathered to learn from eminent professionals in their field, with speakers such as Prof Peter Passmore who 'demystified the neuropathology and made what can be a dry topic very interesting'.
Chaired by Prof Iracema Leroi, Academic Director for Dementia Academy, the course covered a whole range of in-depth sessions unpicking core research, learning and practice across the Alzheimer's care pathway. From advanced aspects of diagnosis and neuroimaging in Alzheimer's to state of the art cognitive assessments, clinical trials and the latest in fluid biomarkers, delegates immersed themselves in the cutting edge of research and clinical practice.

As well as fully examining all aspects of Alzheimer's itself, the course also considered the importance of brain health and the need for targeted risk reduction in populations to protect against growing numbers of people with Alzheimer's in the future. Prof Craig Ritchie spoke eloquently on the importance of promoting brain health as well as on how to establish a brain health service, and why this is important.
'Very much 'food for thought'. Excited to see and possibly evaluate the model in the future!'
Delegate regarding the Brain Health Service model, as presented by Craig Ritchie
Whilst Alzheimer's features on our Dementia MasterClass, this is the first course of its kind dedicated to a deep dive into Alzheimer's itself, and with a strong evaluation and positive comments from delegates, it may well be replicated in the future.
View the programme

This activity has been supported by sponsorship from Biogen Idec Ltd. The sponsor has had no control over the educational content of this activity.
Related articles
Promoting prevention, supporting management
Led by proactive clinicians determined to see improvement in the way we prevent, diagnose and manage dementias, Dementia Academy supports healthcare professionals with the latest tools, resources and courses to do just that.