MS Unite's first steps from vision to reality
News
---
---

On Tuesday 22nd June, 21 stakeholders gathered virtually to understand the origins of MS Unite as a concept, and to discuss how that concept could become a reality.
MS Unite is a vision for all elements of care, support, treatment and management needed by someone living with multiple sclerosis (MS) to be accessible from a single point using technology (fig 1). Developed by the first MS Leaders Academy group, it intends to encourage better joined-up working across professionals, enable more responsive care and promote proactive self-management amongst people with MS.
Fig 1: 'Esther's story', a fictitious case study demonstrating the positive use of MSUnite in a situation commonly experienced by someone newly diagnosed with MS
With a view to learn how to move this vision from dream to reality, stakeholders from across the neurological community, including those with experience of a neurological condition, healthcare professionals, the voluntary sector, and technology providers all gathered to learn more and to talk about some of the potential barriers to this work.

Using Ayoa (fig 2) to visualise the project, introduce themselves, and to pose questions, the group used Zoom's chat function and in-person discussion to share views and thoughts.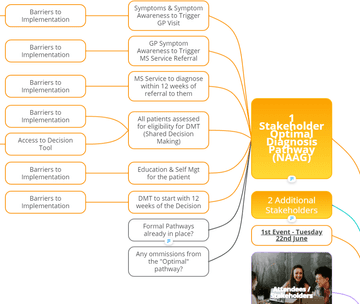 Fig 2: Excerpt from the MS Unite mindmap via Ayoa: Next steps - a diagnosis pathway
With the expectation that looking at the barriers and challenges to this work would help avoid pitfalls later on, questions like 'why have we not united all MS services before?' and 'what would be the biggest barrier to achieving this vision?' were discussed in detail.

Other discussions were around the remit of the work, and there were constructive arguments as to whether building on existing functions and making them more widespread and accessible, or starting to work in areas where nothing has been accomplished yet, would be more useful.

Some stakeholders felt it would be most beneficial to examine how to support a particular group of patients, and one of the predominant foci consistently raised was around diagnosis. This has led to an agreed next step of examining how MS Unite can support the diagnosis pathway set out in the new national OPTIMUM care pathway.

Beginning by outlining each step needed for the pre-and immediately post-diagnosis phase (fig 2), the stakeholder group will next consider the barriers to implementing that step, to understand how MS Unite can help remove or overcome those barriers. The OPTIMUM pathway (fig 3) notes some barriers already identified, such as capacity within the workforce.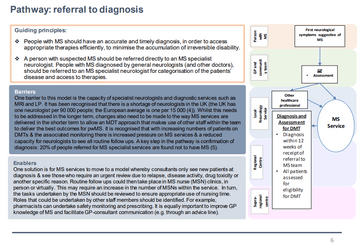 Figure 3: The OPTIMUM pathway, p6, 'referral to diagnosis'
Almost 50 people have expressed an interest in being involved in MS Unite going forward, and the more people involved or connected, the broader the reach of the work. If you are interested in being part of MS Unite, know of a service or initiative which could provide insight or learning into its aims, or would like to find out more, please get in touch.

Related articles
Encouraging excellence, developing leaders, inspiring change
MS Academy was established five years ago and in that time has accomplished a huge amount. The six different levels of specialist MS training are dedicated to case-based learning and practical application of cutting edge research. Home to national programme Raising the Bar and the fantastic workstream content it is producing, this is an exciting Academy to belong to.