Neurology Academy during the COVID-19 pandemic
News
---
---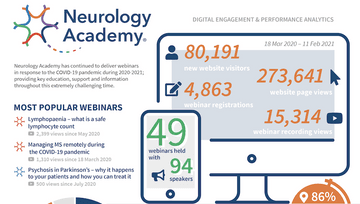 On 23rd March 2020, our society was changed overnight. The announcement of a UK-wide lockdown due to the coronavirus pandemic meant a drastic change to everyone's lives, and to our health service.
Health professionals were redeployed to frontline services, regular clinics for diagnosis and review were suspended and frantic attempts to use telehealth and other digital solutions to bridge the gap began. Health professionals felt that there was a lack of clear guidance, and that the guidance that was being produced was conflicting*.
Neurology as a specialism was directly impacted by COVID-19, the disease manifesting in symptomatic cases of coronavirus. Many Parkinson's and dementia patients within the 'over 70's' population needed to shield, whilst confusion reigned amongst professionals and patients alike regarding safety measures and monitoring protocol within disease-modifying treatments (DMTs) for multiple sclerosis (MS) despite several iterations of new guidance issued by the Association of British Neurologists.
Further, as the pandemic went on, it became apparent that there are cognitive and neurological symptoms experienced by those contracting COVID-19, confusion and delirium amongst them. This created challenges in identifying the disease in those with dementia, and concern for patients and carers that family members' dementia was deteriorating.
Reports of worsening freezing in those with Parkinson's likely linked with increased inactivity, distress and confusion in those with dementia, and overall exacerbation of mental health problems such as depression, anxiety and apathy were reported.
Neurology Academy was keen to support the neurological community in any way possible. It quickly became apparent, through anecdotal feedback and survey responses*, that our best role was in producing and sharing clear, concise and up-to-date information.
During the course of the lockdown, Neurology Academy has produced webinars, articles, videos, resources and signposting to professionals and patients across MS, Parkinson's and dementia.
This infographic summarises our activity best.

Neurology Academy during the COVID-19 pandemic
Download now
(infographics-Neuro-web-news-COVID-20210305.pdf)
We have analysed the impact on each core disease area that we have provided education on during this time, and infographics for each of MS and Parkinson's paint a clear picture of our activity.
"I think MS Academy is playing a leading role in shaping the MS service in this country"
"Very clear, excellent presentation that provided urgently needed information in a confusing time"
Dementia Academy
Download now
(infographics-dementia-COVID-web-news-20210305.pdf)
"I think the updates are amazing"
All of the webinars are available online, free of charge, and with written summaries, associated resources, and signposting via the links below.
Resources, informative videos, write-ups of good practice to encourage or support, and a plethora of other information is available for each Academy's specialism:
---
*Neurology Academy ran three surveys at the beginning of the pandemic amongst MS and Parkinson's professional populations to understand the challenges to healthcare professionals and unpick where our support would be most useful. A full report detailing the findings is available here:

28 Aug 2020
Posted in
News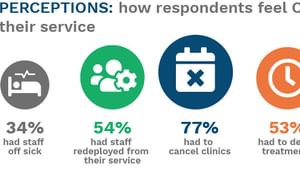 Related articles