New podcast sheds humorous light on living with Parkinson's
News
---
---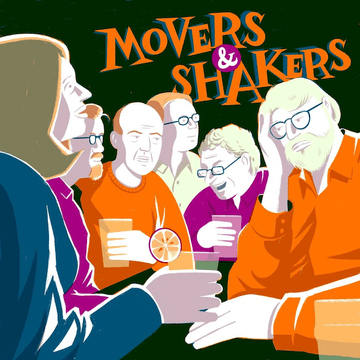 A group of well known individuals across journalism, academia and law have come together to share their experiences of living with Parkinson's in a new podcast called Movers and Shakers.
The group, Rory Cellan-Jones, Gillian Lacey-Solymar, Mark Mardell, Paul Mayhew-Archer, Sir Nicholas Mostyn and Jeremy Paxman, chat informally in a London pub, and bring an incredible enthusiasm and humour to life with Parkinson's.
In the first episode, the group discuss deep brain stimulation which Gillian has had, the challenges of communication when speech and writing are both affected, and share their very variable feelings about the medications available.
With optimism, realism, and honesty, this new podcast is a wonderful resource for people with Parkinson's to understand others' experiences - and for the public as a whole to understand what the condition means for those living with it.
'The things you can't get from the books'
Parkinson's Academy, our original and longest running Academy, houses 20 years of inspirational projects, resources, and evidence for improving outcomes for people with Parkinson's. Led by co-founder and educational director Dr Peter Fletcher, the Academy has a truly collegiate feel and prides itself on delivering 'the things you can't get from books' - a practical learning model which inspires all Neurology Academy courses.