Event
Parkinson's: Tailored Management Course
---
01 Jan 2022 - 31 Dec 2022
This two-module course has been developed for anyone looking to develop an understanding of treating people with Parkinson's, or to refresh their knowledge and review their own practice.
Tailored management, optimal care – supporting people with Parkinson's to live well every day
Our first educational package addressing the in-depth management of Parkinson's on a daily basis, this fully virtual course is a practical how-to guide for anyone looking to understand or improve how they support people with Parkinson's to live well.
Specifically focussed on supporting management of medication (module 1) and non-motor symptoms (module 2), each session addresses a particular element of management through a mixture of background and evidence base, patient stories and complex case studies. Delegates are guided through the full patient journey for that aspect of management, from the practical to emotional, giving a clear picture of optimal care tailored to each individual with Parkinson's.
Who is this course for?

This two-module course has been developed for anyone looking to develop an understanding of treating people with Parkinson's, or to refresh their knowledge and review their own practice.
From newly-qualified specialist nurses and junior doctors, to nurses or therapists who have been working in Parkinson's care for a while, this course will help broaden your understanding of how a person with Parkinson's might experience their condition, how they might experience their care, and how best we as healthcare professionals can support them to live as well as possible.

How is the course taught?
Developed by Louise Ebenezer, Parkinson's Nurse Specialist, Cwm Taf Morgannwg University Health Board, and Jane Price, Parkinson's Nurse Advanced Practitioner, Powys Teaching Health Board and chair of the PDNS Association, this detailed course is a series of 12 virtual sessions, split into two modules of 6 sessions each. Module 1 focusses on medication management, and module 2 examines non-motor symptoms, the interplays between them, and different management approaches to them.
Each module is completed via six on-demand sessions, with relevant background reading or additional resources which can be accessed at any time. Assessment tools needed, pitfalls and red flags to watch for, possible interrelationships to be aware of, and a whole host of useful tips pepper each session.
Although each module follows a slightly different format, both modules feature clear background to the topic, an informative discussion, and examination of a complex case study.
All sessions are accompanied by a summary document, supporting information, and links to any papers, tools or resources discussed in that session.
Module 1 contains a 'Top 10 Tips' document for each medication, giving 10 clear prompts for things to consider in a patient's journey with that particular medication.
Module 2 contains a 'red flags and things to consider' document highlighting key aspects to review, consider or focus on, in managing specific non-motor symptoms.
At the end of each session is a series of three multiple choice questions designed to check 'attendance' and verify understanding of the content. In order to receive your certificate, we ask that you attempt to complete all quizzes found after each session.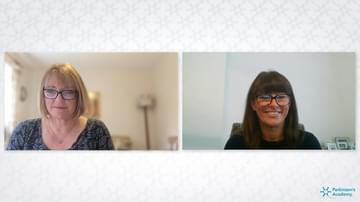 Jane Price and Louise Ebenezer
What will the course involve?

The first module, for medication management looks at oral and non-oral treatments and approaches and reviews in-depth:
Levodopa

Dopamine agonists

Adjuvant treatments, i.e. Amantadine, COMT, MAOB inhibitors and Trihexiphenidyl

Non-oral therapies - Apomorphine

Non-oral therapies - Duodopa

Deep Brain Stimulation
The second module, examining non-motor symptoms, reviews
Neuropsychiatric part 1 (mood disorders)
Neuropsychiatric part 2 (cognition)

Autonomic part 1 (bladder, bowel, sexual dysfunction, and orthostatic hypotension)
Autonomic part 2 (speech, swallowing, nausea, sialorrhea and dysphagia)

Sleep (including daytime sleepiness, sweating and restless legs)
Sensory processing and pain

Estimated time to complete the course
With approximately 10 hours of sessions and further reading, we anticipate 1-2 days to complete this course.

Cost of the course
The course will cost £75 (incl. VAT) per person. To reserve your space on this course, you can now pay directly online. Once your payment is successful, you will be invited to open your Neurology Academy account, to access course resources.
This course is included in the fee of our 2021 MasterClasses. If you are enrolled onto Parkinson's Advanced MasterClass 40 or Foundation MasterClass 41, this course is free of charge for you. The Tailored Management Course has already been added to your account dashboard. Please login with your details to start this course.
Were you registered on this course?
Log in to access resources..
Login
'The things you can't get from the books'
Parkinson's Academy, our original and longest running Academy, houses 20 years of inspirational projects, resources, and evidence for improving outcomes for people with Parkinson's. Led by co-founder and educational director Dr Peter Fletcher, the Academy has a truly collegiate feel and prides itself on delivering 'the things you can't get from books' - a practical learning model which inspires all Neurology Academy courses.