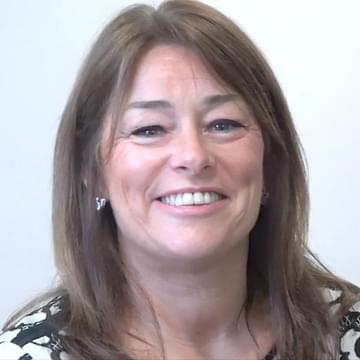 Louise Ebenezer
Clinical Nurse Specialist for Parkinson's disease
Cwm Taf Morgannwg University Health Board
Louise qualified as a Registered Nurse in 1988, working in acute medicine and then a Ward Manager in Care of the Elderly medicine. She was then used as a 'trouble shooter' on a number of problematic wards at the request of the Head of Nursing for Medicine. In all these areas she was instrumental in ensuring that the quality of care significantly improved, resulting in raised staff morale thus leading to a reduction in sickness and improvement in retention of staff.
She has been a Clinical Nurse Specialist for Parkinson's disease since 2003. Louise gained a Masters degree in 2004 in Care of the Older Person, she is an independent prescriber. Louise manages a case load of over 500 patients with Parkinson's disease and related disorders, from diagnosis through to end of life. She runs her own nurse-led community clinics, as well as twice weekly parallel clinics within Princess of Wales Hospital. She manages over 25 telephone calls per day, plus drops in. She also undertakes formal teaching sessions for all health and social care staff. She runs education sessions for patients and carers in both group settings and an individual.
She is an honorary lecturer in Swansea University and co- facilitates and teaches on the Parkinson's disease course – 'Nursing Management of Parkinson's disease and related disorders'. She is vice-chair of Parkinson's Disease Nurse Specialist Association (PDNSA).
Louise also co-facilitates and helped set up the first Parkinson's disease nurse course in Sub Saharan Africa. The first purely for nurses in Moshi, Tanzania for East African nurses in 2012. The second course was for both nurses and non specialist doctors in Accra, Ghana in 2013. A third course in South Africa again for nurses in 2014 and a fourth course in Ethiopia for over 100 delegates in January 2016. Louise is planning the first MDS European Nurse Summer School for September 2017.
Louise Ebenezer: Empowering patients and professionals through education

Louise Ebenezer is a contributor to the following academies
Events
Louise Ebenezer is speaking at these forthcoming events...
---
On Demand Events
Louise Ebenezer spoke at these On Demand events...
---
---
---
---
---