This area of the website is reserved for healthcare professionals as it contains information created for a healthcare professional audience.
To continue, please confirm that you are a healthcare professional...
Event
Women's health and Parkinson's
---
02 Sep 2022

•

15:00 - 16:30
---
Please note that all session and slide content are the views of the Speakers, not the Parkinson's Academy. The content of the recording is the speaker's personal opinion at the time of recording. Due to the ever changing situation, advice given at the time of recording is subject to change.
Parkinson's Academy webinar

Being female and having Parkinson's brings its own challenges. Listen and learn more about the impact of pregnancy and menopause of your patients living with Parkinson's. What are the tools at your disposal to help? When should you start discussing potential changes? Who else should be involved in these discussions? These and your own questions are answered.

CPD accreditation
'Women's health and Parkinson's' has been approved by the Federation of the Royal Colleges of Physicians of the United Kingdom for 1 category 1 (external) CPD credit(s). Full conditions of approval are listed in our guidelines.
Summary
Richelle began by introducing her unique perspective on this topic as a registered dietitian and women living with Parkinson's herself.
She set the scene for the discussion on women's health by noting that there are almost 150 signs and symptoms of premenstrual syndrome (PMS) spanning emotional, cognitive and physical symptoms. Premenstrual dysphoric disorder (PMDD) causes more severe symptoms including mood disorders, sleep disturbances, low energy levels and cognitive difficulties - similar to the 'hidden' symptoms of Parkinson's.
PMS and PMDD are caused by the changes in hormone levels during the luteal phase following ovulation, when oestrogen levels decrease and progesterone levels rise (fig 1) and Richelle shared that she and her female friends with Parkinson's had noticed a similar pattern with exacerbation of Parkinson's symptoms during their luteal phases.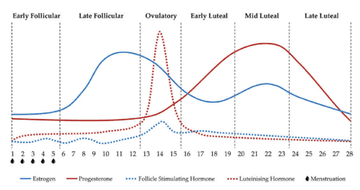 Figure 1: Basic hormone fluctuations and phases of menstruation (taken from Carmichael 2021)
Surveying women with Parkinson's
They decided to survey a wider sample of women with Parkinson's. The Pd Avengers survey of 209 women, 147 of whom were still menstruating, found over 70% reported a worsening of symptoms in the luteal phase (see fig 1). Worsened motor symptoms included bradykinesia, dystonia, and tremor, whilst most commonly worsened non-motor symptoms included depression, anxiety, fatigue and insomnia.
Following up with the 147 women who were menstruating, Richelle was able to map out where women experienced worsening of Parkinson's symptoms through their cycle (fig 2).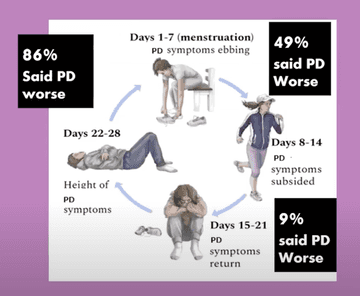 Figure 2: Survey reported worsening of Parkinson's symptoms in relation to the menstrual cycle
When following up with those no longer menstruating, they found that many women noted difficulty controlling symptoms around perimenopause.
Of those who had gone through menopause, there were variable results with 60% reporting their symptoms were much the same following menopause, 20% noting they were worse, and 20% that they improved. 80% of those surveyed were not on hormone replacement therapy (HRT); 47% of those who had been on HRT found that it correlated with improved symptoms whilst the remainder were split in whether their symptoms were about the same or worse with the HRT.
Richelle noted that whilst the sample was too small to be statistically significant, and the results widely variable, the findings nevertheless highlighted an interrelationship between women's hormonal cycles and their Parkinson's symptoms.
Parkinson's specialist nurse Louise Ebenezer confirmed that these findings align with her experience in clinical practice saying that those women with Parkinson's who are menstruating generally report two 'good' weeks each month making it difficult to manage symptoms. She shared how she is trying to help manage these symptom fluctuations, from continuous levodopa to COMT inhibitor use and early referrals for deep brain stimulation.
She emphasised the importance of keeping a symptom diary to try to unpick whether symptoms are Parkinson's or hormone-related as whilst the experience will be of these blended together, optimising management requires this clarity where possible. Louise recommended using a PKG over a full month for this as it may help create patterns of motor fluctuations which are echoed in non-motor symptoms. (Practical management ideas are discussed more fully later on in the webinar.)
In returning to the survey, Richelle highlighted that despite the volume of women who experience this pattern, 90% reported that their consultant did not engage in discussions around this topic (fig 3).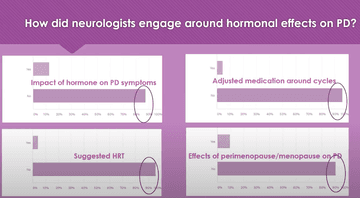 Figure 3: Engagement in discussions around hormonal impact on Parkinson's symptoms
Meeting unmet needs in women with Parkinson's: key interventions
Following a paper published this year, 'Unmet needs of women living with Parkinson's: gaps and controversies' (Subramanian 2022), some of the key findings have positive associated interventions with them which Richelle highlighted (table 1).

| The unmet need | Why it's a problem | The intervention |
| --- | --- | --- |
| Higher risk of Osteoporosis*, Higher fracture risk | Bone health has been identified as an essential aspect of Parkinson's management (Pd Ac 2021) | Screening for osteoporosis at diagnosis, Refer for DEXA scans, Monitor Vitamin D levels, Early referral to dietician, Promote bone health |
| Higher incidence of weight loss early in the disease | Weight loss and dyskinesia have interrelationship with decrease in one and worsening of the other (Sharma 2014) | Manage weight loss and dyskinesia together, Consider levodopa levels alongside this (see below) |
| Motor symptom differences: tremor, restless legs, facial masking, more dyskinesia | Dyskinesia - gender related pharmacokinetic differences in levodopa levels (Conti 2022), Facial masking impacts women's self-perception and quality of life | Consider BMI-related not bodyweight-related levodopa levels, Regular medication reviews - consider alongside discussions around HRT and other hormonal management. |
| Higher incidence of pelvic floor disorders | Bladder and bowel difficulties can lead to exacerbation of other symptoms and emergency admissions | Informal or formal screening for pelvic floor disorders, Education around pelvic floor health |
| Differences in physical functionality (compared to men, they have e.g. lower gastric pH, plasma volume, BMI, average organ blood flow, and differences in total body water volume) | Differences affect pharmacokinetics and drug distribution (Prendergast & Zucker 2020) | Consider these and other gender-related differences and factors(e.g. decreased renal clearance and menstrual cycle both impact) when planning a WwP's care (Zucker and Prendergast 2020) |
| Higher levels of mood disturbances, pain and psychosocial differences | Interrelationship of mood and perceived pain (Woo 2010, Impact on quality of life through sense of 'role' and purpose) | Listen effectively, assess and monitor from diagnosis onwards to enable prompt treatment or management and appropriate support, Recommend stress-reducing therapies e.g. movement and exercise, meditation, CBT |
| Level of paid care required tends to be higher than in men: WwP are twice as likely to need a paid carer and are more likely to enter a nursing home | WwP are concerned about their futures, PwP in a nursing home tend to die earlier than those at home | Have advanced care discussions and support planning; support care packages to help WwP live at home for as long as possible. |
| Consideration of hormonal cycle in relation to Parkinson's symptoms (fig 3) | Hormonal cycles can have a significant impact on a WwP's symptoms, therefore quality of life, progression and social functioning. | Monitor symptoms over a 3+ month cycle to find patterns and adjust management accordingly |
*compared to both men with Parkinson's and women without Parkinson's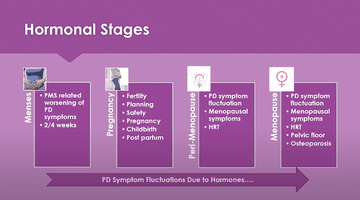 Figure 3: Summary of hormonal stages of women with Parkinson's and key issues to consider
Richelle touched on the problems with involvement of women with Parkinson's in research, with less women referred to centres of excellence, an underrepresentation of women in clinical trials, and a lack of registries and funding related to or featuring women with Parkinson's. She also highlighted a range of guidance and tools that are needed to meet some of these unmet needs and to support women in Parkinson's better (figure 4).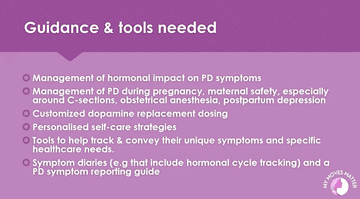 Figure 4: Guidance and tools to support women with Parkinson's
Practical implementation
Following Richelle's presentation, she and Louise had a discussion around further practical ideas and tools that specialist nurses, consultants and allied healthcare professionals might draw on to improve their management of women with Parkinson's.
Take a personalised approach to medicine - specifically consider a woman's hormonal cycle in terms of her medication management.

In the week prior to menstruation, the drop in oestrogen also lowers dopamine levels in women.
Anecdotally, providing extra levodopa for a short period of time each cycle can be helpful for some women

additional madapar and sinemet or continual use of the birth control pill without a break to avoid a drop in oestrogen may be possible options

Raise awareness of these issues amongst consultants. These issues are being considered and supported amongst specialist nurses, but how can we raise awareness of this amongst consultant neurologists and geriatricians?
Develop a pathway which highlights what the issues might be and how to support these amongst women with Parkinson's.

Create local pathways which support links with obstetrics and gynaecology departments to create formal or informal partnership working
This is also helpful for links and working relationships with bladder and bowel CNSs and urology specialists

In some places formalised joint services are being set up across these departments for people with epilepsy and MS and are needed for younger women with Parkinson's as well.
Projects to learn from may include 'Joint maternal and MS service' (Dr Ahmed Mubarak Mohamed) and the Urology and MS collaborative service (Liam Rice)
Bone density - use of exercise to improve strength and bone density as early on as possible and ensure this is a multidisciplinary approach

See our Education with Impact report 'Supportive skeletons: addressing bone health in Parkinson's to improve outcomes' for both further background and a range of ideas from around the country to address this in your own practice.
Dyskinesia needs to be assessed and managed properly.
'The view of Parkinson's as an elderly white man's disease has done everyone a disservice. It's talked about as a symptom which isn't very impactful, and perhaps if you're older it isn't, but if you are a working mother with dyskinesia I can assure you it is very impactful.'

---
Our sponsor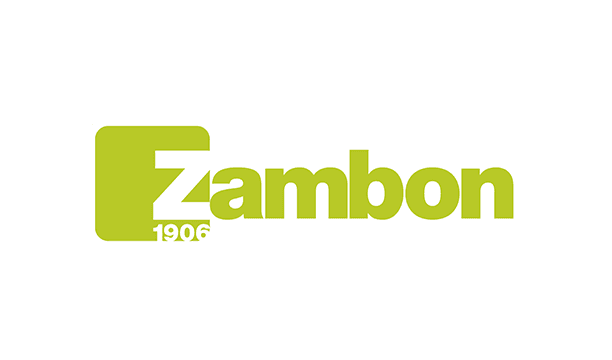 This webinar has received sponsorship from Zambon UK Ltd. The sponsor has had no input into the educational content or organisation of the session.
'The things you can't get from the books'
Parkinson's Academy, our original and longest running Academy, houses 20 years of inspirational projects, resources, and evidence for improving outcomes for people with Parkinson's. Led by co-founder and educational director Dr Peter Fletcher, the Academy has a truly collegiate feel and prides itself on delivering 'the things you can't get from books' - a practical learning model which inspires all Neurology Academy courses.