Event
Parkinson's: A UK and international perspective on the COVID-19 impact
---
24 Apr 2020

•

10:30 - 11:30
---
Please note that all session and slide content are the views of the Speakers, not the Parkinson's Academy. The content of the recording is the speaker's personal opinion at the time of recording. Due to the everchanging situation, advice given at the time of recording is subject to change.
Summary
Parkinson's Academy launched its first webinar in response to the COVID-19 pandemic on 24th April, following the success of MS Academy's webinars and the clear need for support, education and information at this challenging time.
The webinars have received sponsorship from BIAL Pharma, and are a continuation of the educational support provided from BIAL Pharma.
More than 80 attended the webinar live.
Introduction
Dr Richard Davenport opened the webinar, summarising the current health climate and the reason for the webinar. He noted that at present, it does not seem that there is a neurological signal associated with COVID-19. However, as Prof Bas Bloem echoed the impact of the infection causing severe problems is much higher for Parkinson's patients because of the respiratory challenges already associated with the condition.
Richard highlighted the health impact that lockdown itself has had on people with Parkinson's. He noted, as did others throughout the webinar, the mental and physical exacerbations in symptoms that his patients are seeing due to a reduction in activity, socialising, and change from usual daily rhythms. As an example he cited a patient whose wife had seen a marked decline in her husband's health, with no change to his medication, which she has put down to 'lack of contact, lack of engagement and lack of golf'.
The hidden sorrows of the COVID-19 crisis
Bas, citing his book, 'Ending Parkinson's Disease' (whose proceeds go towards exactly that end), shared that Parkinson's is the fasted-growing neurological condition on the planet (fig 1), and that evidence suggests it is a 'man-made disease' related strongly to environmental pollution and the use of paraquat, a chemical being used in a widespread manner. Bas advocated a stronger voice amongst the Parkinson's community, to fight for more funding into research and to clean up the environment to protect our future generations.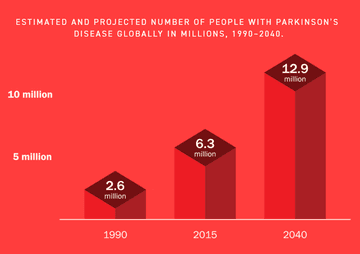 Figure 1: Projected growth of prevalence of Parkinson's, taken from 'Ending Parkinson's Disease'
Stress: Highlighting that people are feeling an increased amount of stress, he pointed out that increased stress both exacerbates Parkinson's symptoms such as tremor and freezing, and has recently been linked to an overall worsening of disease progression (Helmich & Bloem 2020).
Movement: Exercise and movement has a huge wealth of evidence demonstrating how it can slow the progression of Parkinson's (citing Lancet: 2018, imaging data and a growing body of other evidence)- to build plasticity and flexibility in the brain. Bas suggested encouraging patients to use digital means of bringing exercise into the home with virtual dance, yoga, and exercise classes online or via telemedicine. He was very clear that half an hour of aerobic exercise daily is essential to slow disease progression and optimise wellness (11.48-49).
Questions to Bas:
On movement and exercise:
Can apathy hinder people's uptake of exercise? But perhaps also be helped by exercise? (13:55)
Apathy is a symptom that often does not concern patients but really challenges their family members. There is not specific evidence that exercise is good for apathy but we know it is good for other areas of mind health like depression. Where people feel apathetic towards exercise, family members can help initiate it.
What is the best exercise for postural instability? (15:19)
A static bike is good as it is safe at home, and can be managed by people with gait or other freezing difficulties. It can be made fun by doing it whilst watching a programme or turning it into a game, and hand bikes are also an option.
What about for people with cognitive difficulties? (17:05)
There is good evidence that regular exercise helps to prevent cognitive decline, but once you have this decline, it becomes far harder for the families to encourage exercise. The burden falls on the spouse or family member caring for that person; physiotherapists can help reduce some of this burden.
On virtual management of patients:
What is the ideal way of managing patients in non-ideal circumstances? (18:28)
This pandemic has accelerated the future of care. Often far more accurate information can be understood from patients away from hospital settings. Video conferencing can provide lots of other information about environment, relationships, and such. Lots of care can be brought right into patients' homes, and the evidence is that care delivered via telemedicine is 'at least as good' as in person, and is also more efficient.
Richard noted that Parkinson's nurses often see this more holistic view of their patients.
Do you have any tips about how to assess bradykinesia remotely? (21:00)
The Movement Disorder Society is working on this. Most things can be assessed remotely. Rigidity is harder but can be assessed by swinging legs or arms and watching for asymmetry. I only spend 2% of my time examining patients in most clinics – it's far more discussion-based. Diagnosis is the only time that more physical examination is needed.
Virtual appointments for diagnosis feels second-best… (22:28)
I am seeing new patients by necessity now, but planning a follow-up in person with them in due course to check for other Parkinsonian conditions which is harder to do remotely. I value intimacy with my patients and this is also harder to establish remotely. However, once you have invested in that relationship, this is attainable remotely too.
What about cognitive assessments? (24:16)
A lot of assessments for clinical trials have been paused, but we have validated scales for cognitive assessments and they can be completed in advance of a phone call, or via video call under supervision.
A nursing perspective of the impact on our services
Louise Ebenezer gave her personal experience of the impact on Parkinson's services during the pandemic.
Impact on patients
Opening with a case study, she noted the 80 year old woman who was relieved to get a phone call from her nurse – she had been doing her own shopping, collecting her own medications. She knew she should be self-isolating but didn't know how to because her family were all overseas.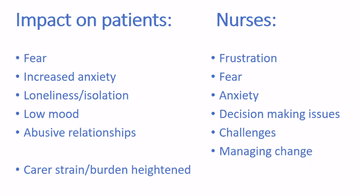 Figure 2: The emotional impact of COVID-19 on patients and staff: Louise's slidedeck
Low mood is a real issue for many patients, and that some have become abusive as lockdown has continued. This has had an impact on the carers at a time where there is no respite available and an increased burden of stress and challenge. Some respite services have begun offering a reduced home service.
Mental health referrals have increased for all patients but definitely for Parkinson's.
Impact on nurses
Nurses fearful of where they are being redeployed and who will care for their patients, and are concerned that supporting patients remotely might mean they do not have a full or accurate picture of the patient's needs before making care choices for them.
Initially there was a huge increase of calls with patient's feeling uncertain and querying whether they should go to hospital if they have a fall or other health concern.
Calls have been much longer, often half an hour or more per patient.
There are more calls from GPs; although the volume has reduced now, often when calls come through they are longer as patients have 'sat' on health concerns because of avoiding burdening health services or attending hospitals.
What we are doing in our local practice
We have maintained all usual clinics but hold these via video, skype or a mobile phone.
Louise has been through her 500-strong caseload to check everyone will get a call, prioritising those who live alone.

She later discussed some of the questions that she consistently flows through, from general health, wellbeing and environment, to condition-specific. She also shared that she speaks with the main carer too. A question about a specific structure to these telephone appointments prompted Louise to highlight her colleague Jane Price, who has developed a tangible checklist that others can access if they wish.
They are sending information to patients, from tips on how to keep moving and motivated (12.10), to signposting to online services like Parkinson's UK and Silvercloud, a mental health resource for both patients and professionals.
A directory of local services has been sent out to all patients.
Most of the team have been redeployed, but administrative staff are supporting the team by taking calls from patients, passing on messages to Louise, and sending out information.

Reassuring patients has been essential, helping them know that GPs are still available, not to ignore underlying illnesses, and explaining that A&E is being split to screen away from COVID-19 so it is safe to go to A&E if they need to.
Share positivity – 'safe at home' not 'stuck at home', what you can do, not what you can't. Giving patients and carers ideas for exercises that can be used, new hobbies, encouraging acceptance, promoting time away from the TV and such.
The biggest challenges
Managing hallucinations virtually is very difficult, especially for people who are having these for the first time. It is hard for both the patient and their family.
Palliative and end of life care is a huge challenge. Some patients are naturally coming to their end of their disease progression, and telling people that they are coming to the end of their journey over the phone is very difficult. We pass these patients on to the district and Macmillan nurses but they still want access to their specialist nurse so we stay in touch weekly.

Bas commented that we need to be having end of life discussions, regularly, and to reassure patients that end of life discussions and planning are an important part of good clinical practice, rather than being related to COVID-19.
Questions to Louise:
Redeployment seems quite variable, and patient organisations have been very concerned about redeployment of nurse specialists. Do you know about this?(45:25)
In some areas there has been a lot of redeployment and services have come to a standstill. In some areas, staff have been redeployed part time. I am personally about to be redeployed, but will be 3 days on a ward and 2 days managing Parkinson's patients. This is why it is essential to have an administrative staff member who can be a constant point of contact.
Parkinson's UK have recorded 54% of Parkinson's nurse specialists have been redeployed entirely or part-time so far.
Do you have a structured interview system? (47:02)
No, I have a set format I go through, so more of a plan in my head. I begin with general wellness, COVID-19 symptoms, living environment, who does their shopping, then move onto Parkinson's symptoms, medications, support, shopping, relationships and so on. My colleague Jane Price has devised a written checklist.
How would you deal with a call where a patient is falling regularly due to inactivity? (49:02)
Ask about their routine, the type of exercise they have done in the past, if they have any dizziness, are they sitting down all day? I would suggest some chair exercises, refer to a physiotherapist if needed (where resource is there) and suggest to their spouse that they encourage the person with Parkinson's to do things for themselves around the home.
A Northern-Italian perspective on Parkinson's telemedicine during the pandemic
Dr Francesca Mancini based in Milan, Italy, gave a northern-Italian perspective on Parkinson's and their experience with telemedicine. Francesca has been using a newly-developed telemedicine programme for Parkinson's, 'ParkinsonCare', for just over a year, and it has been really useful within this COVID-19 outbreak.
About ParkinsonCare
A new model of telenursing, developed and used over the past year, which is run by a Parkinson's specialist nurse (PDNS). As the PDNS role has not existed in Italy, the biggest task has been to train nurses to become experts in Parkinson's. This has been supported via UK nurses, spearheaded by Sue Thomas and Parkinson's Academy.
The model is a very unique and novel experience, so it has not been easy either for the professionals to use, or to convince patients that this form of care is useful.
It works across a digital platform and a specialist nurse. Looks at medication, lifestyle, environment and is a daily approach.
It has not used video conferencing historically, as over the past year, patients could still attend their neurological appointments in person. We have now integrated video support into the platform.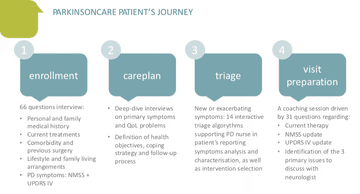 Figure 3: The ParkinsonCare patient journey, from Francesca's slidedeck for the webinar 24.04.20
The overall patient journey (fig 3)
Francesca drew attention to the 64 questions forming the initial consultation / amalgamation of information onto the platform, to really get to know patients and their environments. This uses validated assessments and clinical scales.
She highlighted that patients and clinicians develop a care plan together and use coaching sessions to go through all of the information that has been gathered through discussions and triage with the patient.
She noted that integration with the neurologists and GPs for the given patient is essential, as usually nurses cannot change medication themselves.
Regarding the use of triage in the tool, 37% of patients needed a referral to the neurologist, so the majority of the time, the nurses were able to manage and support the patient directly (fig 4).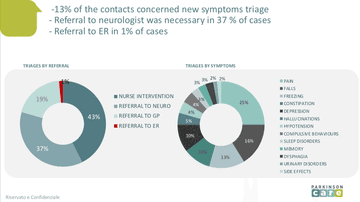 Fig 4: Triage statistics in terms of symptoms and onward referrals
March 11th: the start of a new way of working
A lot of consultants were redeployed, clinics were closed in mid-March, and most neurologists were no longer reachable.
The telemedicine service had a rapid increase in calls, and we began enrolling patients from across the whole of Italy (12.45).
Collaboration with a number of other organisations to remotely care for all Parkinson's patients (12.47) means there is now coordination with local services and multidisciplinary teams.
265 new patients were enrolled in 1 month. There had previously been a far smaller group of patients.
The enrollment phase became smaller and faster and focussed on the triage algorithm to quickly respond to patient problems (12.48). The reduction in motor activity because of lockdown meant a lot of patients had worsening physical and mental symptoms (12.49).
Francesca ended with a few case studies to help create a clearer picture of patient's experiences within lockdown and how the telemedicine tool has been used.
Were you registered on this course?
Log in to access resources..
Login
Our sponsor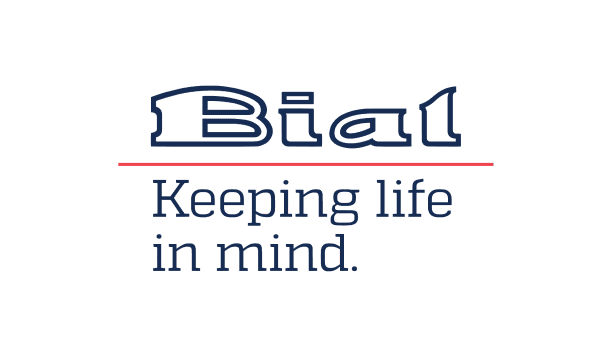 This meeting is designed and delivered by the Parkinson's Academy and sponsored by BIAL Pharma. The sponsor has had no input into the educational content or organisation of this meeting.
'The things you can't get from the books'
Parkinson's Academy, our original and longest running Academy, houses 20 years of inspirational projects, resources, and evidence for improving outcomes for people with Parkinson's. Led by co-founder and educational director Dr Peter Fletcher, the Academy has a truly collegiate feel and prides itself on delivering 'the things you can't get from books' - a practical learning model which inspires all Neurology Academy courses.