Our first Neuropharmacy MasterClass
News
---
---
In January this year, we ran our first ever Neuropharmacy MasterClass. The growing specialism is a complex and wide-ranging one, covering a vast range of roles and responsibilities, and this was fully reflected in our packed and practical programme.
As Professor Gavin Giovannoni points out, the role of the pharmacist has evolved as the complexity of neurology medicines and treatments has changed, and neuropharmacy is a specialism in its own right. The role of the neuropharmacist is a growing one with the increasingly vast landscape of medical management available for long-term neurological conditions like MS, Parkinson's, epilepsy and headache – and this is reflected in our packed and practical MasterClass.
A neuropharmacist may have a huge variety of responsibilities, as Gavin explains, from preparing for the launch of, and managing the prescribing for new and existing disease-modifying treatments to developing local and national protocols around disease-modifying therapies. Other specialist responsibilities might include coordinating home care delivery for infusions and completing individual funding requests (IFRs) for off-label treatments.
This first Module of our Neuropharmacy MasterClass, covered multiple sclerosis (MS) and headache, whilst the next module in October will cover Parkinson's and epilepsy.
The sessions were highly rated, with over 60% of delegates awarding their relevance and likelihood of changing current practice as a level '5' – 'very high' and the remaining delegates responding with a level '4' – 'high'.
'Best one of these I have been to, very, very, very organised, team approachable.'

'This has been a fantastic course – I am so grateful at having the opportunity to attend and see how other centres do things.'

'The course has totally exceeded my expectations.'


Multiple sclerosis
Seeking to round out existing knowledge, deepen confidence and enhance the role that neuropharmacists can play in supporting people with MS, our sessions on MS ranged from diagnosis and symptom management through to disease-modifying treatments and infection mitigation.
Seeking to give as holistic a picture as possible, everything from the science of diagnostic imaging to the patient's experience of diagnosis and treatment were included in the risk programme, expertly presented by Dr David Paling and Neuropharmacist Rachel Dorsey-Campbell.
'Really useful session, simple explanations of certain diagnosis criteria – MRI/ oligopoly bands – helped my understanding of something I thought I already understood.'

'I learnt loads – this [diagnostics] is not something pharmacists usually get taught, it was really relevant.'

'Was really nice to hear about the journey to diagnosis for patients and how diagnosis can be a really difficult task.'

'It was really interesting to see the gaps in questioning surrounding MS symptoms in clinics and how helping those symptoms can help the patients (ie fatigue and drug interactions, pregnancy and sexual dysfunction).'
We pride ourselves on ensuring all learning is practical and applicable, and it was encouraging to hear direct from our delegates that this new course fit that standard.
'It made me realise the gaps in my own knowledge and what I need to improve on to more effective in MDT.'

'It was useful to learn the recommended management strategies for various common symptoms, but value was added from hearing the experiences of managing these conditions and understanding the practical elements and non-drug interventions that pharmacist can make.'

'This session [Good governance] was extremely useful and met my learning needs, because it highlighted good examples of where pharmacists can get involved with service improvement and offered ideas of projects and governance audits beyond the broad quality standards from NICE that are difficult to implement and measure.'

'I found this [Future treatment targets] session very relevant for my role as I find it difficult to find our about treatments on the horizon and the advice given on how best to prepare the service for introducing future treatments was useful.'
Our sessions on disease-modifying treatments (DMTs) – a growing area of neuropharmacological treatment for MS – included a clear overview of the treatments available, as how to help patients find the best option for them, as effective monitoring and managing the risk of infection associated with DMTs.
'[Managing the infection risk session] opened my eyes to consequences of some of the medications prescribed – and how if left the severity can increase.'

'It was good to see how other manage the infection risks with DMTs. I will take some of this back with me to review our guidelines.'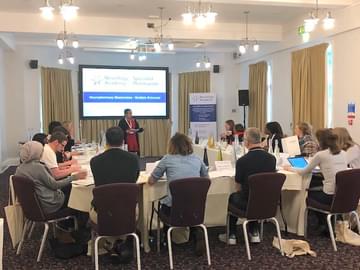 Headache
Beginning with 'What is a headache' and 'when is a headache not a headache?' Dr Giles Elrington and neuropharmacist Joela Mathews led the sessions on headache.
'Excellent speaker, very engaging and enthusiasm for subject area really enhanced learning while many of the manifestations of headache and associated definitions are not common in the day to day practice of a pharmacist, was nice to learn holistically on this area.'

'Very educational – learned a lot about MOH [medication-overuse headache] and how to manage that.'
Delegates once again reported on the practical application of the learning, with 'treatment aims and principles of pharmacy' sparking thoughts of how services could be developed and shaped locally.
'This talk helped understand how the pharmacist role can develop in area and improve service and developed to support day management.'
Part of the course included a clear understanding of the full headache pathway across both primary and secondary care, equipping delegates with a broader understanding of the services and support available and their fit in this.
'Good to get an insight into pathway and tools used and how this fits with patient assessment in primary and secondary care.'
Finally, this module of the presentations ended with a brief look at audit and recommendations for effective service audit, encouraging delegates to act in optimising their service, and assisting in a national reduction in variance.
'I took away some good ideas for audit and how we manage our service.'

'It was a good idea to encourage us to do this.'

'Great for learning and will benefit our centres.'
For more information on this exciting new MasterClass, to learn more about the role of the neuropharmacist, or to register your interest for a forthcoming course, please see our website.
Developing neuropharmacists, supporting collaborative care
Knowledgeable pharmacists can initiate or support new treatment pathways, play an important role in patient education, medicine adherence, efficacy and safety, and provide advice to other healthcare professionals involved in the person's care. This Academy recognises the value of this essential role, and seeks to enhance pharmacist's clinical skills and build their confidence in managing a range of neurological conditions.