Parkinson's Advanced 42 project winners announced!
News
---
---
Congratulations to the graduates of our 42nd Parkinson's MasterClass, which has culminated in a whole host of brilliant intermodule projects - and particularly to the winner and runners up of this year's Advanced project award!

Every set of intermodule projects has two reviews to decide on the winning piece of work - an initial review and deciding of the top three or four stand-out projects, and then a final vote of the winner from across that selection, made by the class of delegates following a presentation by the prospective winners.

This year our Advanced intermodule projects had their initial culling, not from our Parkinson's Academy faculty, but from a group of people affected by Parkinson's. The change was proposed by Head of Academy Daiga Heisters, recognising that the award is given to the most transformative work - and that individuals living with, or supporting people with, Parkinson's are best placed to judge what would transform their experiences of services and support!

We're delighted to announce that this year's winner is Nick Bryden with his project titled 'improving timely medication access for people with Parkinson's in hospital through combined use of electronic records and education'. Parkinson's nurse specialist Nick wanted to improve the access to timely medication for people with Parkinson's admitted to hospital and through research into the opportunities within electronic records, collaboration with senior pharmacists, and pilot education for non-specialist ward staff, has developed comprehensive reporting systems, more joined up working between the Parkinson's team and general wards, and improved understanding of Parkinson's medication in his local hospital.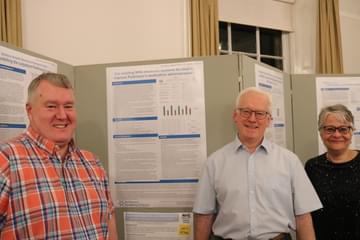 Nick Bryde, Parkinson's Advanced MasterClass 42 project winner with Academic Director Dr Peter Fletcher & Head of Parkinson's Academy Daiga Heisters
Our two runner up projects were carried out by Dr Joshua Drake and Emily Scotney.
Geriatric speciality doctor Joshua's project looked at how well bone health was being assessed in people with Parkinson's within outpatient clinics at his local hospital in Portsmouth by searching retrospectively for mention of bone health assessments, FRAX calculations and falls history in a random selection of patients across a single month. His findings were encouraging but highlighted there was no systematic approach, so he has developed a clinic pro forma with a dedicated section on bone health for future use.

Emily, a Parkinson's clinical specialist, wanted to reflect the NHS agendas for increasing personalisation and reducing outpatient activity by remodelling her services' existing clinic to reflect existing capacity and provide responsive care to people's needs. Using logistics planning and population stratification, Emily and her team have devised a way of working differently combined with new interventions including a telephone helpline, patient initiated follow-up, and various types of patient-facing information to meet the needs of patients within existing resources.

You can view all the projects from our Parkinson's Advanced MasterClass 42 here.
Related articles
'The things you can't get from the books'
Parkinson's Academy, our original and longest running Academy, houses 20 years of inspirational projects, resources, and evidence for improving outcomes for people with Parkinson's. Led by co-founder and educational director Dr Peter Fletcher, the Academy has a truly collegiate feel and prides itself on delivering 'the things you can't get from books' - a practical learning model which inspires all Neurology Academy courses.