Symptom management: pain, fatigue and cognition
Knowledge
---
---
The shift in focus on symptom management within the new NICE guidance for MS follows the same ethos of many of the other updates - that of a holistic, person-centred and integrated approach to management.
There is now more evidence supporting the high prevalence and significant impact of hidden symptoms such as pain, fatigue, mood and cognitive impairment on a person with MS's quality of life, of the interrelationship between these symptoms, and of a correlation between an increase in these symptoms and progression of disease overall.
There is a bigger picture to this too. These symptoms are often perceived as the biggest barriers to continuing to work, and with 40-80% of people with MS being of working age and between 70% and 80% retiring from work within five years of diagnosis (Julian 2008), it is important that vocational support and links with occupational therapy are made so that symptom management occurs alongside making reasonable working adjustments wherever possible. Additionally, retirement due to ill-health is linked to higher levels of depressive symptoms particularly amongst women (Zuelke 2020), and may contribute to negative neuroplasticity and compromised cognitive functioning (Vance 2016).

'Hidden' symptoms: stats in brief
Pain has been found to increase or compound other MS-related symptoms such as fatigue and depression, and to have links with disability (Heitmann 2020 & 2022). Somewhere between 35% and 70% of people with MS experience pain at some point in their MS journey (Piwko 2007; Foley 2013).
Cognitive impairment affects around one third of people at diagnosis increasing to 50% within five years (Reuter et al, 2011), and up to 91% of those with primary progressive MS experience it, suggesting it worsens with progression (Ruano et al, 2017).
Anywhere between 70% and 90% of people with MS experience fatigue. It has a detrimental impact on mental health and mood. It may be the leading cause of disability in patients with mild or early relapsing-remitting MS (Carter 2018).
Mood disorders and emotional disturbances are common in people with MS and can lead to significant disruption of family, work, and social life (Minden 2000). Anxiety and depression have been found to affect around half of all people living with MS (Jones 2012) and anxiety has been found to have as much impact on a person's wellbeing and perceived quality of life as depression, which subsequently impacts the severity of symptoms (Hanna 2020).
Understanding the extent of the impact of these symptoms can help us to recognise the importance of acknowledging and addressing them for each person, on an individual basis.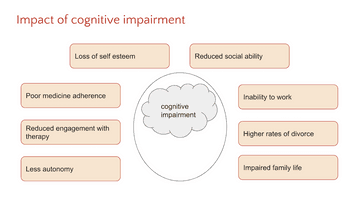 Figure 1: Cognitive impairment is often less discussed than other hidden symptoms in MS, but it is highly impactful on the life of someone with MS
Top tips: Putting the policy into practice
1. Include these symptoms and their management in the comprehensive review you use. Remember to include a comprehensive medication review alongside this - including medication taken for comorbidities - as some medicines may interact with each other, or exacerbate certain symptoms.
2. Gather baseline information close to diagnosis for these symptoms so that you can monitor any progression, improvement, or impact on other symptoms.
3. Use an individually-tailored mix of lifestyle change and medication management to optimise how each person experiences these symptoms.
4. Make use of the best people in your workforce: whether in primary, secondary or social care, referral on to the best person in your patch will reduce unnecessary waiting times, make best use of skillsets and ensure each individual receives the right services for them.
5. Encourage self-monitoring and use of various lifestyle changes to monitor trends in improvement of symptoms, or increase in symptoms. Signpost to information, apps and / or supportive communities. The interrelationship between these symptoms can also be seen positively - improving one may well positively impact others.
---
References
Carter JL, Fatigue in Patients With Multiple Sclerosis, Practical Neurology, ePub July/Aug 2018 accessed https://practicalneurology.com/articles/2018-july-aug/fatigue-in-patients-with-multiple-sclerosis (19.08.22)
Foley, PL, Vesterinen, HM, Laird, BJ, et al. Prevalence and natural history of pain in adults with multiple sclerosis: Systematic review and meta-analysis. Pain 2013; 154: 632–642.
Hanna M, Strober LB. Anxiety and depression in Multiple Sclerosis (MS): Antecedents, consequences, and differential impact on well-being and quality of life. Mult Scler Relat Disord. 2020 Sep;44:102261. doi: 10.1016/j.msard.2020.102261. Epub 2020 Jun 6. PMID: 32585615; PMCID: PMC7719086.
Heitmann H, Andlauer TFM, Korn T, Mühlau M, Henningsen P, Hemmer B, Ploner M. Fatigue, depression, and pain in multiple sclerosis: How neuroinflammation translates into dysfunctional reward processing and anhedonic symptoms. Mult Scler. 2022 Jun;28(7):1020-1027. doi: 10.1177/1352458520972279
Heitmann H, Haller B, Tiemann L, Mühlau M, Berthele A, Tölle TR, Salmen A, Ambrosius B, Bayas A, Asseyer S, et al; German Competence Network Multiple Sclerosis (KKNMS). Longitudinal prevalence and determinants of pain in multiple sclerosis: results from the German National Multiple Sclerosis Cohort study. Pain. 2020 Apr;161(4):787-796. doi: 10.1097/j.pain.0000000000001767. PMID: 32197038.
Jones KH, Ford DV, Jones PA, John A, Middleton RM, Lockhart-Jones H, Osborne LA, Noble JG. A large-scale study of anxiety and depression in people with Multiple Sclerosis: a survey via the web portal of the UK MS Register. PLoS One. 2012;7(7):e41910. doi: 10.1371/journal.pone.0041910. Epub 2012 Jul 30. PMID: 22860028; PMCID: PMC3408498.
Julian LJ, Vella L, Vollmer T, Hadjimichael O, Mohr DC. Employment in multiple sclerosis. Exiting and re-entering the work force. J Neurol. 2008 Sep;255(9):1354-60. doi: 10.1007/s00415-008-0910-y. Epub 2008 Jul 17. PMID: 18677639; PMCID: PMC3057081.
Minden SL. Mood disorders in multiple sclerosis: diagnosis and treatment. J Neurovirol. 2000 May;6 Suppl 2:S160-7. PMID: 10871806.
MS Trust, A-Z: Pain accessed https://mstrust.org.uk/a-z/pain (17.08.22)
Piwko C, Desjardins OB, Bereza BG, Machado M, Jaszewski B, Freedman MS, Einarson TR, Iskedjian M. Pain due to multiple sclerosis: analysis of the prevalence and economic burden in Canada. Pain Res Manag. 2007 Winter;12(4):259-65. doi: 10.1155/2007/128681. PMID: 18080044; PMCID: PMC2670736.
Razazian, N., Kazeminia, M., Moayedi, H. et al. The impact of physical exercise on the fatigue symptoms in patients with multiple sclerosis: a systematic review and meta-analysis. BMC Neurol 20, 93 (2020). https://doi.org/10.1186/s12883-020-01654-y
Vance DE, Bail J, Enah CC, Palmer JJ, Hoenig AK. The impact of employment on cognition and cognitive reserve: implications across diseases and aging. Nursing: Research and Reviews. 2016;6:61-71 https://doi.org/10.2147/NRR.S1...
Zuelke AE, Roehr S, Schroeter ML, Witte AV, Hinz A, Glaesmer H, Engel C, Enzenbach C, Zachariae S, Zeynalova S, Loeffler M, Villringer A, Riedel-Heller SG. Depressive Symptomatology in Early Retirees Associated With Reason for Retirement-Results From the Population-Based LIFE-Adult-Study. Front Psychiatry. 2020 Sep 18;11:565442. doi: 10.3389/fpsyt.2020.565442. PMID: 33192685; PMCID: PMC7530286.
Related articles
Encouraging excellence, developing leaders, inspiring change
MS Academy was established five years ago and in that time has accomplished a huge amount. The six different levels of specialist MS training are dedicated to case-based learning and practical application of cutting edge research. Home to national programme Raising the Bar and the fantastic workstream content it is producing, this is an exciting Academy to belong to.