Event
Fatigue in MS – Do we really understand this hidden symptom and how have pwMS been managing this during the pandemic?
---
22 Nov 2021

•

12:00 - 13:00
---
Please note that all session and slide content are the views of the Speakers, not the MS Academy. The content of the recording is the speaker's personal opinion at the time of recording. Due to the everchanging situation, advice given at the time of recording is subject to change.
Case
A 28-year old woman with early RMS complains of recent onset mental fatigue and not being able to cope at work. She is a solicitor. She was diagnosed two years ago after presenting with optic neuritis. She started DMF 18 months ago and has been relapse free. How are you going to investigate and manage her MS-related fatigue?
Objective
This webinar will review the pathogenesis of MS-related fatigue and how we measure, investigate and manage it in clinical practice.

CPD accreditation
'Fatigue in MS - Do we really understand this hidden symptom and how have pwMS been managing this during the pandemic?' has been approved by the Federation of the Royal Colleges of Physicians of the United Kingdom for 1 category 1 (external) CPD credit(s). Full conditions of approval are listed in our guidelines.
---
Summary
Fatigue is a "very challenging subject", and we need to be honest with patients about that – we do not have all the answers, said Dr Emma Tallantyre.
Researchers are still trying to fully understand the pathophysiology of fatigue, though we do know that various MS mechanisms contribute to the symptom (see figure 1).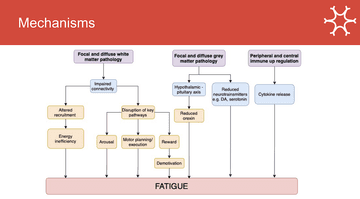 "There are a lot of ways in which what we see on MRI might disrupt the brain in a way that causes fatigue, but there is a lot of pathology that we don't see on the MRI that can contribute," she said, pointing to chemical disruptions and inflammatory states, both of which have been linked to fatigue.
"I think it is worth trying to communicate the complexity of this to people so they understand why targeting parts of these different pathways may only have marginal gains in improving fatigue."
In terms of management, it's important to be clear that it will take time, Emma went on, and to employ a multi-disciplinary approach.
Healthcare professionals should also consider other conditions, such as thyroid dysfunction or anaemia, and what medications the person is taking. Gabapentin, amitriptyline, and baclofen, for example, can disrupt sleep, so there may be scope to change dosing patterns to minimise their impact at night time.
Digging deeper
Joanna Rutkowska-Wheeldon agreed that it was crucial to "understand where that fatigue comes from, and what type of fatigue we are dealing with" during a consultation.
While physical and mental fatigue are different, they are interlinked, with the former sometimes triggering the later. Symptoms of mental fatigue might include mental block, lack of motivation, and irritation – all of which can impact on everyday life and on work.
After medical causes, such as amenia or a lack of vitamin D, and medication side effects are ruled out, the next step is understanding the patient's fatigue experience, as well as their life, environment, and routines.
A fatigue diary is a good way to look for patterns and triggers, said Joanna. "I ask for a minimum of four or five days, and a mixture of weekdays and weekends so we can see if it's different."
She also asks the person to rate how the fatigue is different from one task to another, and at different times of the day. This helped people to reflect on their day, spot pattens, and respond to them.
Joanna also recommended looking at sleep hygiene and implementing bedtime habits, as well as asking people to complete sleepiness scales to help them understand when they may be most affected by fatigue.
Questions to ask about sleep:
How do you sleep?
What's your bedtime routine?
Are you getting up in the night? If so, why and how often?
If someone has no bedtime routine, it can help to offer tips on the best way to prepare the body for sleep. If they are getting up to use the toilet a lot, a referral to a continence clinic may be a good idea.
Teams can also signpost to resources available from the MS Society and MS Trust, or discuss techniques like cognitive behaviour or energy effectiveness training. Local charities and other organisations will tend to have various wellbeing programmes for people can access, so it's worth knowing what is available.
"There is no magic wand. It's about looking at all these things – mood, sleep, diet, exercise, stress – together and finding a way to implement energy conservation for those high energy-consuming tasks," said Joanna.
It's important that teams empower patients by "giving them permission to implement the changes they need to make", whether that's practising self-care or rationing tiring tasks.
There are a number of practical ways to help people to manage fatigue at work, she went on. Questions to ask include:
Can the work be done sitting down?
Can we limit travel to and from work, or between workplaces?
Can we work closer to facilities such as the toilets or break rooms?
Can we reduce the need to multitask, which can be mentally tiring?
Can we use tools such planners, or reminders to help remember and focus on one thing at a time?
Can we plan regular breaks?
Personal experience
Zoey Steele said the mental fatigue associated with MS was very challenging to deal with.
"I am a real extrovert and love spending time with people. But it is so exhausting because you are having to explain yourself; you are worried you will get brain fog and get embarrassed when you can't answer a simple question," she said.
"You never know whether you are going to make it when someone has invited you out, and you worry that you are going to let them down."
Emma and Joanna's advice, she said, was very helpful.
Our sponsor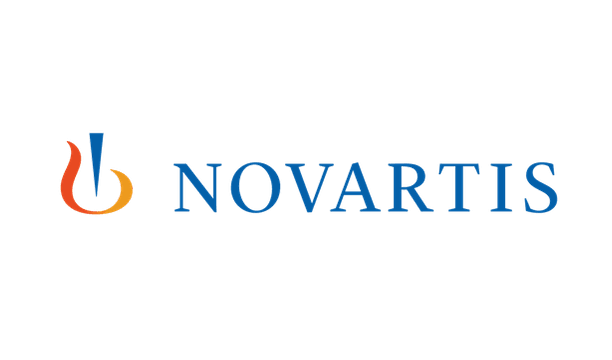 This activity has been supported by sponsorship from Novartis Pharmaceuticals UK Limited. The sponsor has had no control over the educational content of this activity.
Encouraging excellence, developing leaders, inspiring change
MS Academy was established five years ago and in that time has accomplished a huge amount. The six different levels of specialist MS training are dedicated to case-based learning and practical application of cutting edge research. Home to national programme Raising the Bar and the fantastic workstream content it is producing, this is an exciting Academy to belong to.