Evaluation of the number of PPMS patients potentially suitable for Ocrelizumab in a tertiary referral centre
---
By
Dr Karen Chung, Consultant Neurologist, UCLH
---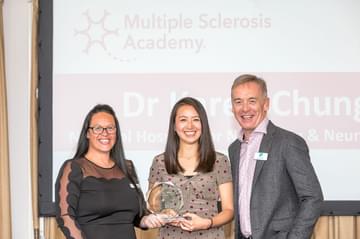 MasterClass 4 runner up: Dr Karen Chung with Sarah Gillett and David Martin
MS MasterClass 4, 2018

Background:
Ocrelizumab has been shown to reduce disability progression in PPMS in a Phase 3 trial (ORATORIO) and has received FDA and EMA approval for treatment in PPMS. There is currently an ongoing consultation process by NICE, with the outcome soon to be announced. Treatment for PPMS previously was limited to supportive and symptomatic treatment only, and the introduction of Ocrelizumab will require development of treatment pathways for a group of patients previously not treated.
The Neuro-inflammation team at the National Hospital of Neurology and Neurosurgery serves a large population of patients with MS, across the entire disease trajectory. As of June 2018, approximately 2000 patients were prescribed a DMT. However, there are no reliable figures for patients not receiving a DMT.
Objective:
To estimate the number of PPMS patients seen in our department; and to estimate the number of PPMS patients potentially eligible for Ocrelizumab. This will in turn aid service planning and development.
Method:
Retrospective review of patients attending specialist MS clinics over a 3-month period (Jan-March 2018 inclusive) was undertaken. Clinical data was obtained from available electronic notes, and included: age, disease onset/ duration, documentation of CSF oligoclonal bands status, last EDSS (or best estimate from notes), co-morbidities, date of last MRI scan, and any previous use of B-cell or immunomodulatory treatment.
Results:
In a total of 1082 clinic attendances, 52 patients had PPMS. Eligibility criteria from the ORATORIO trial was applied: of the 52 patients, 20 were 55 years of age or younger; of those, 15 had an EDSS of 3.0 to 6.5. Of those 15, 12 patients had a disease duration of ≤15 years. Three of the 12 had already been treated or referred for open label treatment: two for Cladribine, and one Ocrelizumab. The remaining nine patients have all had positive CSF OCBs documented. From this, it is estimated that ~40 PPMS patients would be potentially eligible for Ocrelizumab.
Conclusion:
In a large tertiary referral centre where ~2000 patients are prescribed a DMT, approximately ~40 patients with PPMS would be potentially eligible for Ocrelizumab. This figure is likely to be an under-estimate, as it is likely that PPMS patients seen in the community or other clinics (e.g. general, Rehabilitation) are not captured. If NICE recommendation is granted, an increase in referrals for people with PPMS to specialist clinics is likely.
More MS Academy Medication Projects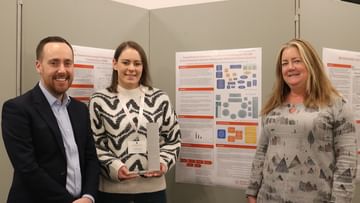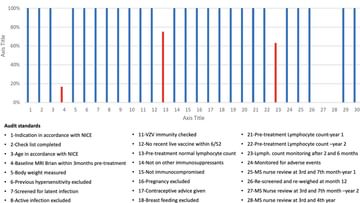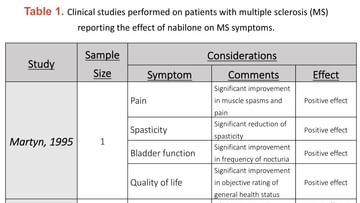 Encouraging excellence, developing leaders, inspiring change
MS Academy was established five years ago and in that time has accomplished a huge amount. The six different levels of specialist MS training are dedicated to case-based learning and practical application of cutting edge research. Home to national programme Raising the Bar and the fantastic workstream content it is producing, this is an exciting Academy to belong to.