The length of time it takes to start on a DMT after diagnosis in Glasgow
---
By
Pauline McDonald, MS Specialist Nurse, Queen Elizabeth University Hospital
---
Introduction
The Scottish MS Register Report (2019) identified a significant delay in MS nurses making contact with people who were newly diagnosed with MS in Greater Glasgow and Clyde (GGC). The National Clinical Standard (2009) states that contact should be made within 10 working days of the diagnosis. In 2018 GGC MS nurses contacted 70.5% of patients within 10 working days with the national average being 81.2%. GGC was contacted in June of this year by the MS Register team, prior to the report being released, to comment on this. A team decision was made to send referrals to MS nurses by email into a generic box to eliminate this delay.
Given there was a delay in MS nurses making contact with patients we were concerned this was impacting on treatment and wanted to look at this in more detail.
Aims and Objectives
Our aim was to look at the length of time it took from diagnosis to treatment and identify the delays along this pathway. In particular we wanted to see what effect the delay in nurse contact was having on patients being started on disease modifying treatment (DMT). We wanted to look at the effectiveness of the referrals arriving by email. Once we established the reasons for the delays we wanted to look at ways of rectifying them where possible.
Method
A retrospective review of the notes was carried out for people who attended the nurse led new patient clinic between July and September 2019. Only patients newly diagnosed who were eligible for a disease modifying treatment were included. We looked at how many referrals were made by email. We recorded the length of time from diagnosis to the nurse making contact with the patient.
We then looked at the pathway that is currently in place and calculated the time it took for the referral to be made, the referral to reach the nursing staff, the nursing staff to act on the referral and finally the time for the patient to start on treatment after their diagnosis.
We documented the reasons for delays that affected patients who had waited longer than 1 month for treatment and looked for common themes.
On reviewing the notes the start date for the treatment was not recorded and therefore the start of treatment was taken as the day the prescription was written.
Results
37 people attended the new patient clinic between July and September 2019. 15 people were newly diagnosed and eligible for a disease modifying treatment. One person out of 15 was referred by email, one person was referred verbally whilst they were an inpatient and the remainder were referred by letter.
12 (80%) were contacted by a MS nurse within 10 days of diagnosis, 2 (13%) were contacted between 10-20 days and 1 (7%) was contacted between 20-30 days.
The time taken for a referral to be made to the MS Nurse team was between 0 – 20 days. 9 of these referrals were within 5 days.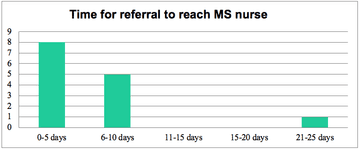 Following receipt of the referral the MS nurses made contact with the patient within 4 days by posting out a letter with our contact details. One patient's referral never arrived, however the patient telephoned the nurse service 16 days after diagnosis.
Reasons for delay in nurses making contact with patient
Looking at the notes there were delays in the referral letters being delayed, typed and going through the postal system to the nursing staff. The lengthier delays were due to staff absence such as holidays holding up letters being typed or signed off.
Time taken from Diagnosis to Treatment
Only one patient was prescribed treatment within 4 weeks of being diagnosed. 7 were started within the next 4 weeks. There were a number of reasons for the delays and some of these were unavoidable.
Reasons for delay in treatment
| | |
| --- | --- |
| 5-8 weeks: | Referrals slow to arrive, lack of clinic slots |
| 9-12 weeks: | Patient thinking about treatment options, prescription error |
| 17-20 weeks: | Abnormal bloods – investigated |
| 21-24 weeks: | Lack of clinic slots, patient thinking about treatment options |
| 25-28 weeks: | Diagnosed by general neurologist, then waited to see MS neurologist |
Conclusion
As one person was referred by email this demonstrated the revised method of referrals was not working in practice. This has been fed back and the use of email referrals has been encouraged. As the MS nurses can respond to a referral within 4 days then our standard of making contact with 10 days of diagnosis is achievable.
We have also made up business cards with our contact details on to be given to the patients in clinic. This means if the referral is delayed, perhaps for unavoidable reasons such as unexpected absence the patient has the MS nurse details and can make contact with us.
Although the MS nurses were responding to the referral within 4 days the patients were waiting to be seen in clinic. To ensure people are seen quickly in clinic to start on treatment we have decided to use the new patient clinic for people who are newly diagnosed and to start on treatment. People who are newly diagnosed and not starting on treatment are allocated a slot in one of the MS nurse follow up clinics.
Some of the delays are unavoidable such as patients wanting time to think about treatment options and further investigations being required for abnormal bloods.
Aside from this work GGC has looked at the waiting times for an MS neurologist and these have been reduced to 7 weeks, so the long delays people experience having been diagnosed by a general neurologist should stop.
Recommendations
This audit to be repeated in 3 months to establish if patients are being contacted within 10 days of diagnosis and if the time from diagnosis to treatment has improved
It would be helpful to look at the length of time it takes for the patient to start treatment after the prescription has been generated. At the moment this all goes through a home care delivery company or the patient will be admitted to hospital as a day case. We don't record the exact start date but this is worth looking at.
References
SCOTTISH MULTIPLE SCEROSIS REGISTER, 2019.Scottish Multiple Sclerosis Register National Report.
QUALITY IMPROVEMENT SCOTLAND, 2009. Clinical Standards Neurological Healthcare
More MS Academy Medication Projects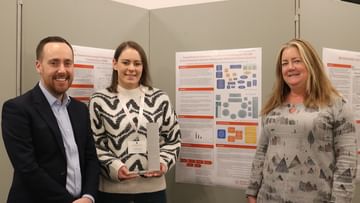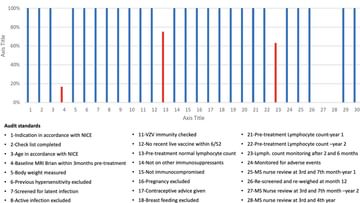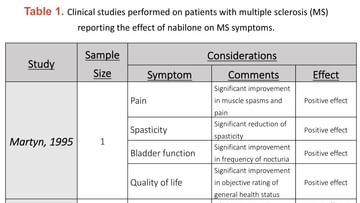 Encouraging excellence, developing leaders, inspiring change
MS Academy was established five years ago and in that time has accomplished a huge amount. The six different levels of specialist MS training are dedicated to case-based learning and practical application of cutting edge research. Home to national programme Raising the Bar and the fantastic workstream content it is producing, this is an exciting Academy to belong to.