The Ocrelizumab Pharmacy Service at the Leeds Teaching Hospitals NHS Trust (LTHT): Improving the Patient Experience
---
By
Jeremy Robson & Sumrah Shaffiq, Advanced Clinical Pharmacists, Leeds Teaching Hospitals NHS Trust
---
All of our attendees carry out a piece of research in an area of MS clinical practice or treatment that interests them.
This snapshot gives you a quick idea of what they found and why. If you want to learn more, just click through to the full poster, or follow the links within the snapshot.
If you would like to contact the alumni who did the research, drop us a line and we'll put you in touch where possible.
Aim
To review the West Yorkshire MS Treatment Programme's (WYMST) ocrelizumab pharmacy service in order to:
Understand the patient experience on the day unit
Ensure timely availability of infusions
Establish a safe and appropriate pace to compound ocrelizumab infusions
Ensure safe and effective ocrelizumab prescribing
Headlines
Ocrevus (ocrelizumab) was approved for relapsing-remitting MS (RRMS) in 2018, and for early primary progressive MS (PPMS) in 2019
At WYMSTP, patients eligible for ocrelizumab are consented by MS nurses and receive treatment on the LTHT day unit along with patients with other neurological conditions. Independent prescribing pharmacists (IPP) undertake prescribing, using paper charts, by liaising with LTHT aseptic services
The approval of ocrelizumab means a potential increase in prescribing, day case admissions, and aseptics involvement in the manufacture of monoclonal antibodies (MABs)
Key findings
Between 1 November 2018 and 31st December 2019:
92 doses of ocrelizumab were administered

63 RRMS patients received ocrelizumab infusions

IPPs spent around 10 mins prescribing the infusion on the paper chart

The average time it took for the infusion to arrive in the day unit was 155 mins (range: 63 minutes to 289 minutes)
A patient survey found that the overall experience was good, but the wait time was a bone of contention for many
A staff survey found most doses were compounded by nurses on their own units, rather than the day unit
Recommendations
Pilot pre-making ocrelizumab in aseptics within 24 hours of the patient's appointment and ascertain if the improved patient experience outweighed the potential financial risk
Evaluate how the ChemoCare electric prescribing pilot, currently being undertaken at LTHT, could benefit other day case treatments, including ocrelizumab
Collaborate with the aseptics unit to establish an electronic alternative to paper charts for prescribing ocrelizumab
More MS Academy Service development Projects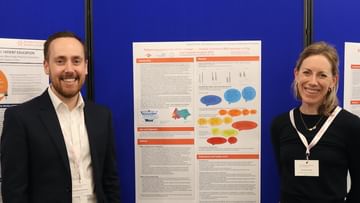 Encouraging excellence, developing leaders, inspiring change
MS Academy was established five years ago and in that time has accomplished a huge amount. The six different levels of specialist MS training are dedicated to case-based learning and practical application of cutting edge research. Home to national programme Raising the Bar and the fantastic workstream content it is producing, this is an exciting Academy to belong to.