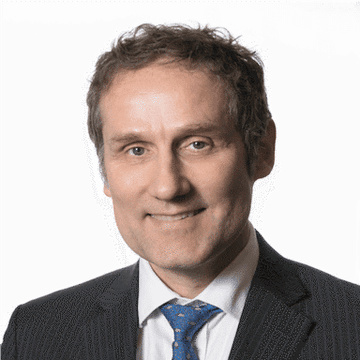 Prof Klaus Schmierer
Professor of Neurology and Consultant Neurologist
The Blizard Institute, Queen Mary University of London & The Royal London Hospital of Barts Health NHS Trust
Klaus Schmierer is a Professor of Neurology at The Blizard Institute, Queen Mary University of London, and a Consultant Neurologist at The Royal London Hospital of Barts Health NHS Trust, where he also serves as the Research Lead for Neurology.
He serves on the UK Multiple Sclerosis Society's Clinical Trials Network, their Consortium for Progressive MS, the Advisory Board of the UK MS Register, and is the subspecialty lead for MS at the National Institute of Health Research North Thames Clinical Research Network. Prof Schmierer is a Past-Chair of the International Society for Magnetic Resonance in Medicine's White Matter Study Group.
Ever since starting his career in neurology, Prof Schmierer maintained a clinical and research focus on demyelinating diseases, particularly MS. His clinical academic work includes research into the pathology & pathophysiology of MS, disease control and lack thereof, the (differential) diagnosis & monitoring of MS, and investigator-led and commercial clinical trials. He promotes a pro-active treatment approach at all stages of MS.
Twitter: @KlausSchmierer
Watch video:
Prof Klaus Schmierer is a contributor to the following academies
On Demand Events
Prof Klaus Schmierer spoke at these On Demand events...
---
---