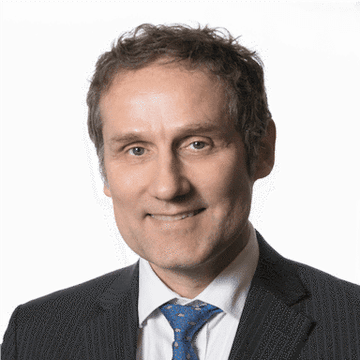 Prof Klaus Schmierer
Professor of Neurology and Consultant Neurologist
The Blizard Institute, Queen Mary University of London & The Royal London Hospital of Barts Health NHS Trust
Klaus Schmierer, MB BS PhD FRCP
Dr Schmierer is a professor of neurology at The Blizard Institute, Barts and The London School of Medicine & Dentistry (Queen Mary University of London), and a consultant neurologist at The Royal London Hospital, Barts Health NHS Trust, where he is the research lead for neurology, and the clinical lead of the neuroscience day case unit & BartsMS.
After completing his training in neurology at the Charité Hospital (Humboldt University Berlin), he moved to London to pursue a career in academic neurology, initially as a research fellow & clinical associate, and from 2005 as a Wellcome intermediate clinical fellow at the UCL Institute of Neurology, and consultant neurologist at The National Hospital, Queen Square. Following appointments in 2009 at QMUL and Barts Health he moved to his current position in east London.
Ever since starting his career in neurology, Dr Schmierer has maintained a focus on inflammatory demyelination, including research into the pathology, pathophysiology, MRI detection & measurement, and disease control in people with MS, the (differential) diagnosis & monitoring of MS, and investigator-led and commercial clinical trials. He advocates a pro-active treatment approach at all stages of MS.
Dr Schmierer is the lead for MS at the National Institute of Health Research North Thames Clinical Research Network and serves on the Scientific Strategy Committee of the UK MS Register. He has advised the EMA, MHRA, and NICE on new drugs for MS. He is also a member of the MS International Foundation's Working Group on improved Access to treatment and healthcare. Dr Schmierer is the CI of ChariotMS (www.chariotms.com) and AttackMS (https://multiple-sclerosis-res...), and a member of the steering committee of MAGNIFY-MS. His research has been supported by Barts Charity, HEFCE, Wellcome Trust, MRC/NIHR-EME, National MS Society (US), Royal College of Radiologists, UK MS Society, and collaboration with industry. Linkdin: https://www.linkedin.com/in/kl... Publications: http://www.researchpublication... ChariotMS: https://www.nihr.ac.uk/blog/a-...
Twitter: @KlausSchmierer
Prof Klaus Schmierer is a contributor to the following academies
On Demand Events
Prof Klaus Schmierer spoke at these On Demand events...
---
---
---