2 Parkies in a Pod - a beginners guide to Parkinson's
News
---
---
We've recently come across this podcast: 2 Parkies in a Pod. It's a lovely, open and honest discussion about Parkinson's by two men who have been living with the condition for just over 10 years.

Featuring a snippet of advice from Parkinson's Academy speaker Jonny Acheson, their positive and friendly discussion features honest accounts of their experience, advice like 'take your time', 'live in the moment' and 'always have something to look forward to in the diary'.

They share thoughts from their diagnosis, and give advice to friends and family members of those with Parkinson's as well as to people experiencing the condition directly.
A great resource to listen to yourself, or to perhaps signpost newly diagnosed patients to…

Find it online via most mainstream podcast apps.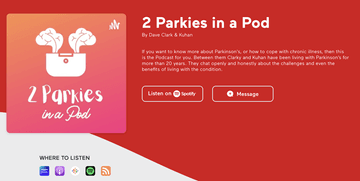 'The things you can't get from the books'
Parkinson's Academy, our original and longest running Academy, houses 20 years of inspirational projects, resources, and evidence for improving outcomes for people with Parkinson's. Led by co-founder and educational director Dr Peter Fletcher, the Academy has a truly collegiate feel and prides itself on delivering 'the things you can't get from books' - a practical learning model which inspires all Neurology Academy courses.