Announcing our MS Intermediate MasterClass workplace project winners!
News
---
---
We are delighted to announce the winner and two runners up for our MS Intermediate MasterClass this year!

Congratulations firstly to Dr Jananee Sivagnanasundaram, consultant neurologist at Epsom and St Helier University Hospitals NHS Trust for her service development project locally. Over the past year and a half, Jananee has worked to review current practice through liaison with colleagues and peers, compare practice to other similar areas, identify areas for improvement and implement appropriate change. She has already led considerable change over the past 18 months (figure 1).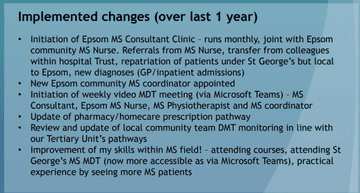 Figure 1: Excerpt from poster highlighting changes implemented in the past 12 months resulting from Jananee's project.
The process Jananee took, the issues she highlighted, and her plans for the future can all be found in detail on her poster.

Congratulations are also due to our two runners up. MS Specialist nurse Margaret Solomons received accolades for her review and reform of a community MS service in London.

There was a range of topics addressed in this cohort's workplace project, with a range of audits and service development work, as well as work in cognition, medication and assessment. As with all of our workplace projects, each delegate's project work is available to view in poster form via our projects space online.
Encouraging excellence, developing leaders, inspiring change
MS Academy was established five years ago and in that time has accomplished a huge amount. The six different levels of specialist MS training are dedicated to case-based learning and practical application of cutting edge research. Home to national programme Raising the Bar and the fantastic workstream content it is producing, this is an exciting Academy to belong to.