Celebrating 20 years of Parkinson's Academy
News
---
---
20 years ago, four healthcare professionals who cared about people with Parkinson's decided to run a course to help address the common challenges and patchy provision found in Parkinson's services.
Since then, 2,706 healthcare professionals have attended one of our 113 educational events*, with a gross total of 6,439 delegates attending an event with the Academy over the past two decades.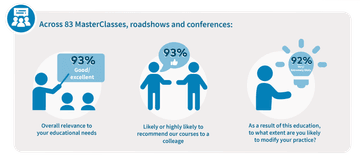 92% say they are likely or highly likely to modify their practice as a result of that education, and the average delegate goes on to do two or more subsequent courses within Parkinson's Academy, as well as an additional two or more courses in another specialism within the Neurology Academy umbrella.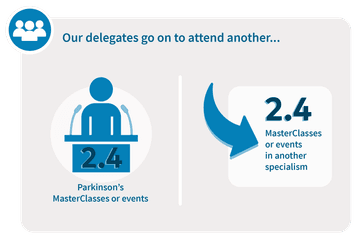 500-plus mentor-supported workplace projects have impacted local services as a result of our education. From improving diagnosis to optimising medicine management, supporting bone health to joining up services, local healthcare professionals have reviewed, improved, developed and changed their services - and therefore impacted the lives of those people with Parkinson's in their patch.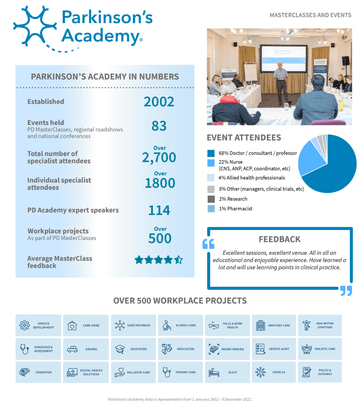 Our virtual courses, initially propelled by the coronavirus pandemic, have become an integral part of our offering and span webinars, on-demand content, fully virtual courses, and hybrid options to attend and participate in live events from home.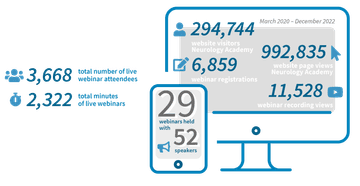 In our webinars, 52 speakers have addressed over three and a half thousand people in 29 live sessions, whilst the number of sessions watched on-demand exceeds ten thousand views.
As a result, over the past four years we've seen an increase in our web traffic and in the variety of healthcare professionals attending our courses.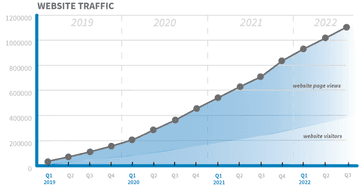 Our education is always evolving, and we have worked to provide increasingly relevant and inclusive teaching over the years - and seen a broadening range of backgrounds and disciplines access our education as a result.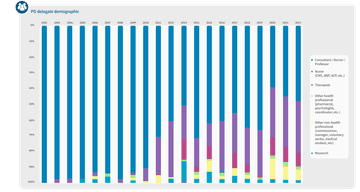 Honing in on the difference between the first course in 2002 and the most recent course in 2022, from 100% consultant-based delegates, more than 50% of attendees hold a different role within the Parkinson's service.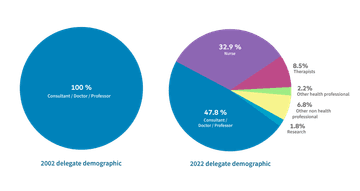 When we took a snapshot survey of 189 people who have accessed Parkinson's Academy, we found that a huge proportion of healthcare professionals had seen a direct impact on their personal practice or their wider work.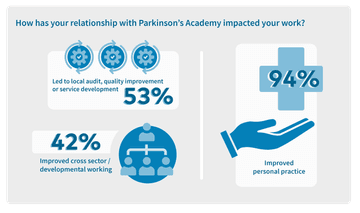 This is particularly encouraging given that 41% of those respondents had not attended a MasterClass, meaning other forms of education such as webinars, virtual courses, and web-based resources are also directly impacting people's work - and therefore the lives of those they support.

'The Academy is a terrific resource and a great learning and educational support structure for all healthcare staff looking after those with neurological conditions.'
From what was intended as a one-off educational meeting, Parkinson's Academy has led the way for 13 separate Academies to be developed under the Neurology Academy umbrella and has established the ethos and vision held across every Academy: uniquely practical education, producing specialist clinical leaders, transforming local healthcare.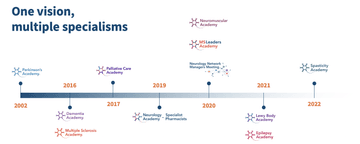 *'Events' where an * shows, refers to courses, conferences, roadshows and webinars
Related articles
'The things you can't get from the books'
Parkinson's Academy, our original and longest running Academy, houses 20 years of inspirational projects, resources, and evidence for improving outcomes for people with Parkinson's. Led by co-founder and educational director Dr Peter Fletcher, the Academy has a truly collegiate feel and prides itself on delivering 'the things you can't get from books' - a practical learning model which inspires all Neurology Academy courses.