Cutting Edge Science – Do we need to rethink genetic testing?
Event reports
---
---
In July this year, the Parkinson's Academy presented "Cutting Edge Science for Parkinson's Clinicians", an educational meeting sponsored by Bial Pharma UK Ltd. This one-day meeting was chaired by Dr Peter Fletcher and attended by a diverse audience of neurologists, care of the elderly physicians, psychiatrists and Parkinson's nurses. The meeting was a chance to review advances in the clinical understanding of Parkinson's and discuss how to build on these insights in routine clinical practice. Each week we are posting a blog to look at the day's speaker sessions in more detail.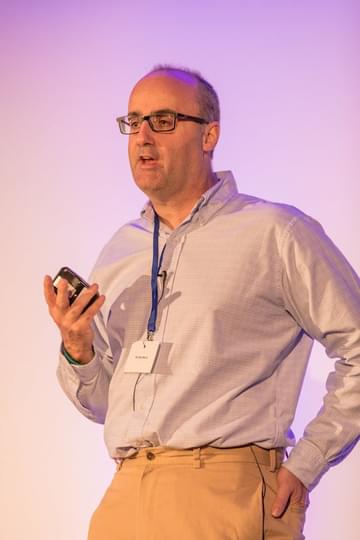 Professor Huw Morris (UCL Movement Disorders Centre, Royal Free Hospital, London) began his presentation with its conclusion – that there is, indeed, an increasingly urgent need to rethink how genetic testing is used in Parkinson's.Professor Morris went on to discuss how, in a world that is rapidly moving into a new era of readily available genetic testing, healthcare professionals (HCPs) working with Parkinson's patients need to be ready to understand the complexities of ethics and consent issues that such testing brings. Services must also be ready with a health framework that is able to make use of the rapid advances in the field. Within just 10 years, the field has moved from viewing 'familial' Parkinson's as single gene disorders to considering them in terms of a complex interplay of factors within the patient genome. This change in thinking has been largely driven by advances in the field of genetic research, which has moved from linkage studies of highly penetrant mutations (e.g. SNCA, LRRK2, PINK1, PARKIN) to genome-wide association studies (GWAS) and whole-genome sequencing.1
Professor Morris argued that these breakthroughs have only been possible through national and international collaborations, such as the PROBAND study where over 70 UK centres have come together to share data.2 Moving forward, the field must be ready to handle the 'big data' that will be rapidly generated.Professor Morris emphasised the need for front-line HCPs to keep up with this fast-moving field. A proportion of patients want to know if their Parkinson's has a family basis, and it is likely that clinicians will see increasing numbers of genetic-based cases as the population ages. For those patients who have well-characterised parkinsonian mutations, understanding the patient's genetic history may help understand the predicted prognosis. For example, patients with Parkin syndrome often have early onset parkinsonism characterised by a slow rate of change on the Unified Parkinson's Disease Rating Scale (UPDRS), sensitivity to levodopa, but with prominent dyskinesia.3 However, it is crucial that patients and their families understand that having a genetic diagnosis does not currently lead to an alteration in treatment. It is also vital to have the necessary framework for genetic and family counselling, as a genetic diagnosis has profound implications for the whole family.
In this respect, Professor Morris suggested the well-developed model for predictive testing in Huntington's disease would be a fine-tuned template to follow.4 Here, people interested in undergoing predictive testing are referred to specialist centres which have the necessary frameworks in place. Patients are counselled on what the genetic test will, and will not, tell them and are given sufficient time for reflection before they come back for the testing. Once the results come back, the relevant multidisciplinary personnel are readily available to move forward. Professor Morris also urged the audience to be ready to deal with the increasing number of patients coming forward with direct-to-consumer genetic tests. HCPs must be ready to discuss the difference between relative risks (which the genetic panel will show) and life-time risks in a clinical context.Closing his presentation, Professor Morris noted that while the field is not ready to treat by genetics, the huge advances made have developed our understanding of Parkinson's and its biology.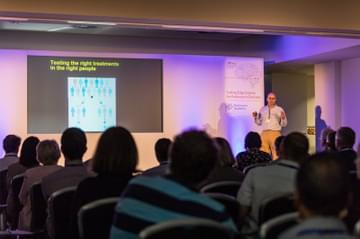 References:
Mullin S, Schapira A. The genetics of Parkinson's disease. Br Med Bull 2015;114(1):39-52.
Malek N, Swallow DM, Grosset KA, et al. Tracking Parkinson's: Study Design and Baseline Patient Data. J Parkinsons Dis 2015;5(4):947-959.
Khan NL, Graham E, Critchley P, et al. Parkin disease: a phenotypic study of a large case series. Brain 2003;126(Pt 6):1279-1292.
MacLeod R, Tibben A, Frontali M, et al. Recommendations for the predictive genetic test in Huntington's disease. Clin Genet 2013;83(3):221-231.
Article by Anita Chadha-Patel
'The things you can't get from the books'
Parkinson's Academy, our original and longest running Academy, houses 19 years of inspirational projects, resources, and evidence for improving outcomes for people with Parkinson's. Led by co-founder and educational director Dr Peter Fletcher, the Academy has a truly collegiate feel and prides itself on delivering 'the things you can't get from books' - a practical learning model which inspires all Neurology Academy courses.