Debate: Are serum neurofilament levels ready for prime time – the neurologists' CRP? - MS Cutting Edge Science
Event reports
---
---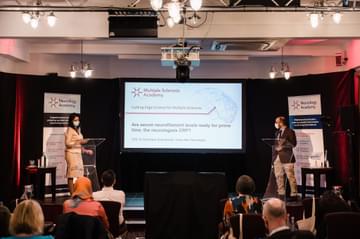 This session is part of a series of write-ups on Cutting Edge Science for Multiple Sclerosis 2021; the conference summary for which is here. The conference was chaired by Dr Wallace Brownlee.
Yes: Dr Sharmilee Gnanapavan
Serum neurofilament light chain (sNfL) levels are "the brain's C-reactive protein (CRP)", said Dr Sharmilee Gnanapavan, calling the measurement an "indicator of brain health".
Like CRP, sNfL has a dynamic range, being responsive in both the acute and chronic phases of MS, and can be used to differentiate those with brain injury from those without.
The metric is also diverse. It is abnormal during central nervous system (CNS) and peripheral nervous system (PNS) damage, and, in MS, it can be modified by disease modifying treatments (DMTs). sNfL reflects both acute damage and of the chronic neurodegenerative process loss, making it a "barometer of brain health",
Dr Sharmilee Gnanapavan
In addition, sNfL has an exciting role to play in predictive medicine, she said, explaining that there is some indication the biomarker can capture pre-symptomatic disease.
Pointing to a 2020 study published in the New England Journal of Medicine that found sNfL levels were increased six years before clinical onset, she said: "This is an opportunity to do preventive medicine… it is very much an untapped region for neurology, and I think we will start to see a lot more work of this type of work coming through."
Importantly, sNfL levels correlate with other known biomarkers for brain health and neuronal damage, including gadolinium-enhancement on MRI and expanded disability status scale (EDSS) score.
No: Dr Nij Mistry
While the technique is advanced and impressive, we still need to "dot the Is and cross the Ts" before sNfL is ready for prime time, argued Dr Mij Mistry.
He pointed to a paper, co-authored by Sharmilee and published last year, which outlined a number of caveats clinicians should consider when using sNfL. These include that it is not specific to MS, and that NfL levels do not provide the location of the axonal damage.
If it is to be used in clinic, Nij said, teams need age-adjusted normative datasets and cut-off values. In addition, multisite validation, to standardise measurement between clinical laboratories and allay any concerns around analytic validity, is required.
Nij also argued that the metric's dynamic range was a challenge to its use in clinical practice.
"If this is a measure that conflates two types of disease activity, and there's no way to disambiguate them… how are you going to tell whether you're going to escalate to an anti-inflammatory therapy, or if you're exposing patients to a risk profile that they're not going to benefit from?" The only way to make a decision, he said, was do conduct an MRI.
"I think one of the biggest risks of calling it a CRP for neurologists is that we stop thinking about what we are measuring," said Nij, saying that the brain was a lot more complicated that joints.
References
Bjornevik, K., Munger, K. L., Cortese, M., Barro, C., Healy, B. C., Niebuhr, D. W., ... & Ascherio, A. (2020). Serum neurofilament light chain levels in patients with presymptomatic multiple sclerosis. JAMA neurology, 77(1), 58-64. https://jamanetwork.com/journa...
Ferreira-Atuesta, C., Reyes, S., Giovanonni, G., & Gnanapavan, S. (2021). The evolution of neurofilament light chain in multiple sclerosis. Frontiers in neuroscience, 15. https://www.ncbi.nlm.nih.gov/p...
---
This activity has been supported by sponsorship from Roche Products Ltd, Biogen Idec Ltd and Janssen-Cilag Ltd. The sponsors have had no control over the educational content of this activity.

Related articles
Encouraging excellence, developing leaders, inspiring change
MS Academy was established five years ago and in that time has accomplished a huge amount. The six different levels of specialist MS training are dedicated to case-based learning and practical application of cutting edge research. Home to national programme Raising the Bar and the fantastic workstream content it is producing, this is an exciting Academy to belong to.