Debate: Do we need to get our patients vaccine ready or just vaccinate? - MS Cutting Edge Science
Event reports
---
---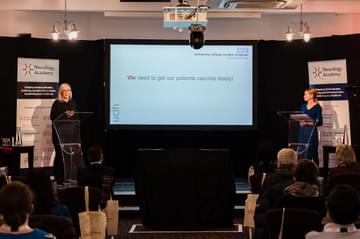 This session is part of a series of write-ups on Cutting Edge Science for Multiple Sclerosis 2021; the conference summary for which is here. The conference was chaired by Dr Wallace Brownlee.
We need to get our patients vaccine ready: Dr Heather Wilson
The Global Alliance on Vaccination and Immunization (GAVI) checklist on national vaccine readiness, which comprises awareness, acceptance, accessibility, and availability, can also be applied to the individual, said Dr Heather Wilson.
Healthcare professionals (HCPs), she went on, were in the best position to get their patients ready for vaccination.
"We need to communicate, clearly and consistently, the most up to date evidence, based on information from trusted sources. We are the only people that can do that for the patient,"
Dr Heather Wilson
"If we don't do it, who will? There is so much misinformation out there. Disadvantaged groups in particular are more vulnerable to this kind of information."
MS HCP can take an individual approach to vaccination, taking into account the patient's demographics, MS characteristics, level of ability, and social behaviour. They can also consider how the person's disease modifying therapy (DMT) affects their COVID risk, the efficacy of particular vaccines, and the right time to vaccinate.
"If we just vaccinate at any time, we know there is a big group of people on the CD20 therapies, fingolimod and so on who will get a suboptimal response," Heather said.
Arguing against mandatory vaccination, she said it was an ethical issue that pitted personal freedom against societal value. Making the jabs compulsory, however, risked causing panic and, counterproductively, alienating the vaccine hesitant even further. This could prove to be a breeding ground for future misinformation.
Summing up, she said: "We need to get our patients vaccine ready. They need to be mentally prepared and fully informed about the individual benefits and risks. We need to look at their physical, neurological, and immunological status, and carefully consider the vaccine timing, type, and dose. 'Just vaccinating' risks providing suboptimal protection."
Just vaccinate: Dr Claire McCarthy
Dr Claire McCarthy argued HCPs should assess the patient's vaccination status at first contact, and recommend immunisation against COVID-19 regardless of the DMT plan.
There is no robust evidence to suggest that vaccines increase the risk of MS relapses, but we know that infections do, so we should not delay immunisation.
"We know that immunosuppressive DMTs increase the risk of infections, but we do not know at what point a patient might need a DMT or a higher efficacy treatment – so vaccinate now while they are not in a relapse,"
Dr Claire McCarthy
Once someone is established on a DMT, there may not be another opportunity for effective vaccination. She explained that many DMTs precluded people from having live vaccines, and others stopped the immune system from responding to non-live vaccines.
She then explained that patients on ocrelizumab, cannot get "vaccine ready" as the DMT increases the risk of a severe outcome from COVID-19, and reduces response to COVID-19 vaccines.
Guidelines also support the "just vaccinate" argument. The European Academy of Neurology (EAN) / Committee for Treatment and Research in Multiple Sclerosis (ECTRIMS) document recommends vaccination be "performed at the time of diagnosis or in the early stages of disease to prevent future DMT delays". The Association of British Neurologists (ABN) says it is "preferable" for people to be vaccinated before starting on a DMT.
However, if the risk of relapse is too high to delay DMT initiation, HCPs should use with non-live vaccines, ideally 12 weeks after ocrelizumab, cladribine, or alemtuzumab. All household contacts should also be vaccinated, concluded Claire.
---
This activity has been supported by sponsorship from Roche Products Ltd, Biogen Idec Ltd and Janssen-Cilag Ltd. The sponsors have had no control over the educational content of this activity.

Related articles
Encouraging excellence, developing leaders, inspiring change
MS Academy was established five years ago and in that time has accomplished a huge amount. The six different levels of specialist MS training are dedicated to case-based learning and practical application of cutting edge research. Home to national programme Raising the Bar and the fantastic workstream content it is producing, this is an exciting Academy to belong to.