Debate: Why have remyelination therapies failed – the wrong remyelination biology or the wrong drugs? - MS Cutting Edge Science
Event reports
---
---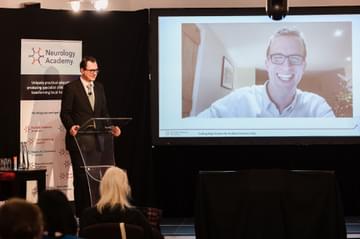 This session is part of a series of write-ups on Cutting Edge Science for Multiple Sclerosis 2021; the conference summary for which is here. The conference was chaired by Dr Wallace Brownlee.
The wrong drugs are contributing to the failure of remyelination therapies: Dr Will Brown
Animal studies have shown that remyelination therapies can restore saltatory conduction and support the underlying axon.
These data suggest we should be targeting oligodendrocyte progenitor cells (OPCs), which derive from neural stem cells, differentiate into mature oligodendrocytes, and finally into myelinating oligodendrocytes.
"Most studies say that OPC differentiation is what is failing, and so that's what we should be targeting,"
Dr Will Brown
However, opicinumab, a monoclonal antibody (MAB) that targets oligodendrocyte differentiation regulator LINGO-1, was not effective enough to move from phase II to phase III trials, It could be argued, Will said, that this was due to the agent being a MAB, fewer than 0.1% of which cross the intact blood-brain barrier.
Bexarotene targets retinoid X receptor (RXR), which is also involved in differentiation and proliferation. Will's team carried out a study involving 50 people with relapsing/remitting MS who were already on dimethyl fumarate. There was an average of six adverse events per patient, and the study failed to meet its primary efficacy outcomes.
This is "far too dangerous" to take forward, said Will, adding that a gamma-specific RXR agonist may avoid the side effects associated with bexarotene, a non-specific RXR agonist.
Researchers have also looked at the antihistamine clemastine, a M1 muscarinic receptor agonist. The ReBUILD cross-over phase II trial of 50 people showed a reduction in P100 latency for three months in the treatment group. This was maintained for two months when switched to placebo.
It shows that remyelination may be possible, but more recent data suggest that targeting mature oligodendrocytes may be more effective.
"At the moment, that does seem to be evidence that targeting OPC differentiation works, but we need much longer studies to prove it, and there's also evidence that we should be looking at targeting mature oligodendrocytes,"
Dr Will Brown
The wrong trial methodology is contributing to the failure of remyelination therapies: Dr Declan Chard
Remyelination therapies have not failed – rather we are in the early days of getting the trials and the molecular targets right, argued Dr Declan Chard.
"There are plenty of potential agents. However, at present even if a treatment does promote remyelination, we may not detect it in early phase trials," he said.
Trials choose metrics that are easy to measure, such as the optic nerve, but these do not necessarily correlate to the restoration of function. In addition, the main benefit of remyelination, i.e. the prevention of neurodegeneration, may only be demonstrated on MRI years after treatment
Dr Declan Chard
"We are pretty poor at detecting remyelination, which is actually quite common," he went on, pointing to a histopathological study of two people with MS post-mortem that found that most lesions do remyelinate. "But we do not detect that using our current methodologies."
The remyelination potential of lesions, and so the capacity to demonstrate a treatment effect, is heterogenous, and may be influenced by multiple factors, he went on. The process is impacted by age, for example, with younger people having a greater remyelination potential than older people.
Remyelination is a dynamic process, with ongoing demyelination and remyelination occurring over months in even mature lesions. Furthermore, remyelination capacity differs between tissue type, with studies suggesting greater remyelination within grey matter than white matter.
"Grey matter lesions are much more extensive than white matter lesions in all types of MS, but using conventional MRI techniques, such as FLAIR, we pick up about 4% of them. We really need to up our game in terms of detection,"
Dr Declan Chard
By taking all these factors into account we can increase the sensitively to treatment effects, and improve trial methodology, he concluded.
---
References
Cadavid, D., Mellion, M., Hupperts, R., Edwards, K. R., Calabresi, P. A., Drulović, J., ... & Zielinski, T. (2019). Safety and efficacy of opicinumab in patients with relapsing multiple sclerosis (SYNERGY): a randomised, placebo-controlled, phase 2 trial. The Lancet Neurology, 18(9), 845-856.
Petrillo, J., Balcer, L., Galetta, S., Chai, Y., Xu, L., & Cadavid, D. (2019). Initial impairment and recovery of vision-related functioning in participants with acute optic neuritis from the RENEW trial of opicinumab. Journal of Neuro-Ophthalmology, 39(2), 153.
Brown, J. W. L., Cunniffe, N. G., Prados, F., Kanber, B., Jones, J. L., Needham, E., ... & Coles, A. J. (2021). Safety and efficacy of bexarotene in patients with relapsing-remitting multiple sclerosis (CCMR One): a randomised, double-blind, placebo-controlled, parallel-group, phase 2a study. The Lancet Neurology, 20(9), 709-720.
Green, A. J., Gelfand, J. M., Cree, B. A., Bevan, C., Boscardin, W. J., Mei, F., ... & Chan, J. R. (2017). Clemastine fumarate as a remyelinating therapy for multiple sclerosis (ReBUILD): a randomised, controlled, double-blind, crossover trial. The Lancet, 390(10111), 2481-2489.
Yeung, M. S., Djelloul, M., Steiner, E., Bernard, S., Salehpour, M., Possnert, G., ... & Frisén, J. (2019). Dynamics of oligodendrocyte generation in multiple sclerosis. Nature, 566(7745), 538-542.
Triplett, J. D., Yiannikas, C., Barnett, M. H., Parratt, J., Barton, J., Graham, S. L., ... & Klistorner, A. (2018). Pathophysiological basis of low contrast visual acuity loss in multiple sclerosis. Annals of clinical and translational neurology, 5(12), 1505-1512.
Patani, R., Balaratnam, M., Vora, A., & Reynolds, R. (2007). Remyelination can be extensive in multiple sclerosis despite a long disease course. Neuropathology and applied neurobiology, 33(3), 277-287.
Neumann, B., Baror, R., Zhao, C., Segel, M., Dietmann, S., Rawji, K. S., ... & Franklin, R. J. (2019). Metformin restores CNS remyelination capacity by rejuvenating aged stem cells. Cell stem cell, 25(4), 473-485.
Bodini, B., Veronese, M., García‐Lorenzo, D., Battaglini, M., Poirion, E., Chardain, A., ... & Stankoff, B. (2016). Dynamic I maging of I ndividual R emyelination P rofiles in M ultiple S clerosis. Annals of neurology, 79(5), 726-738.
Strijbis, E. M., Kooi, E. J., van der Valk, P., & Geurts, J. J. (2017). Cortical remyelination is heterogeneous in multiple sclerosis. Journal of Neuropathology & Experimental Neurology, 76(5), 390-401.
Bø, L., Vedeler, C. A., Nyland, H. I., Trapp, B. D., & Mørk, S. J. (2003). Subpial demyelination in the cerebral cortex of multiple sclerosis patients. Journal of Neuropathology & Experimental Neurology, 62(7), 723-732.

This activity has been supported by sponsorship from Roche Products Ltd, Biogen Idec Ltd and Janssen-Cilag Ltd. The sponsors have had no control over the educational content of this activity.

Related articles
Encouraging excellence, developing leaders, inspiring change
MS Academy was established five years ago and in that time has accomplished a huge amount. The six different levels of specialist MS training are dedicated to case-based learning and practical application of cutting edge research. Home to national programme Raising the Bar and the fantastic workstream content it is producing, this is an exciting Academy to belong to.