Dr Conor Maguire: An ongoing journey of creating services from scratch
News
---
---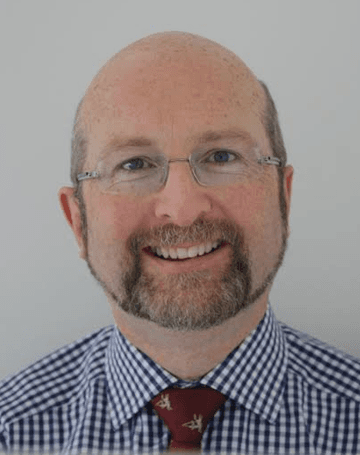 Dr Conor Maguire, a consultant in Medicine for Older Adults, did his thesis in dementia, but this progressed naturally to a special interest in Parkinson's during his time at Frenchay Hospital, Bristol thanks to the hospital's leadership in neurological treatments like deep-brain stimulation.
On moving to Edinburgh 17 years ago, he found a real need for a dedicated Parkinson's service and took a lead in local Parkinson's care. Beginning by offering a specialist movement disorder clinic every other week and partnering with the neurology team to develop a joint system of care for people with Parkinson's, Conor enrolled in the 2001 Parkinson's MasterClass to increase his understanding in managing the complex condition.

Inspired by the first MasterClass and encouraged by the mentorship and peer support he found there, he drew on the shared evidence held across the group to write a business case. He proposed to expand the services for Parkinson's across NHS Lothian with a second specialist nurse. His proposal was rejected.
Attending the second MasterClass module in 2005, Conor was encouraged once again by his colleagues and advised to take a new tack. He set up the Lothian Parkinson's strategic advisory group (LPSAG) with representatives across health care and the voluntary sector, and resubmitted the same business case on the group's behalf. Two new specialist nurses began work immediately across the hospitals and community. While the team liaised with both Care of the Elderly and Neurology departments, it was uniquely independent, managed by a steering group.
Since then, the service has continued to evolve, and Parkinson's patients experience more joined up, multidisciplinary care across Lothian. Supported by LPSAG, the individual professionals work hard to make sure no patient falls through the gaps in care. One of Conor's patients who had recently moved house from London gave high praise when he compared the rurally provided Scottish service as on a par with the expert care he received in England's capital.
Sometimes it can be difficult to make sure patients get continuity of care when admitted to hospital but Lothian prides itself on making this a priority. A recent in-patient under Conor's care who was routinely supported by the specialist Parkinson's neurologist was delighted to find his care in, and discharge from, the hospital to be seamless as the two colleagues worked together across their departments.
Recognising that this 'knitted-together' approach is harder to achieve in the community, the specialist nurse team works across the patch and provides education as widely as possible. At a recent education event, over 100 professionals and patients came, with Conor funding places to make sure allied health professionals could attend.
The service continues to evolve but Conor is keen to highlight how much has improved over the last decade or so. Encouraging any colleague he meets with an interest in Parkinson's to attend the MasterClass, he now knows of seven other geriatrician graduates in his part of the country alone.
"People with Parkinson's are such a nice group of people to care for", he says. "They have a good knowledge of their condition, and really appreciate continuity of care."
Rewarded by the appreciation of his patients, and constantly encouraged and inspired by his peers, he feels that the growing network of Parkinson's specialists, nurtured by the Neurology Academy's MasterClasses, is really revolutionising care for people with Parkinson's.
Useful links:
Related articles
'The things you can't get from the books'
Parkinson's Academy, our original and longest running Academy, houses 19 years of inspirational projects, resources, and evidence for improving outcomes for people with Parkinson's. Led by co-founder and educational director Dr Peter Fletcher, the Academy has a truly collegiate feel and prides itself on delivering 'the things you can't get from books' - a practical learning model which inspires all Neurology Academy courses.