Dr Ed Richfield: Rethinking palliative care for people with Parkinson's
News
---
---
Dr Ed Richfield had been interested in palliative care from his early days training as a geriatrician. He had also found himself supporting people with movement disorders from very early on, training alongside consultants who inspired him in their management of conditions like Parkinson's.
When Ed was offered the chance to do a PhD in palliative care in Parkinson's in 2011, it seemed like a natural combining of two areas of interest for him and he gained funding from the Dunhill Medical Trust to carry out the research. Around half of the information-gathering was qualitative, and what had always been an area of special interest became an area of expertise as he delved into the lived experiences of people affected by Parkinson's.
His findings confirmed his views that palliative care should not be confined to end of life care, but that 'the principles of palliative care should be applied throughout someone's journey'. Asking himself what he would need if he was diagnosed with Parkinson's helped him cement key elements of care in his mind. 'I'd have lots of spiritual and existential questions – why me, what now, what about my job?…' he explained. 'Questions about mortality, right from diagnosis. A lot of people do; diagnosis is a massive event in people's lives and we're not meeting those needs.' Ed became a strong advocate for palliative care from diagnosis and onwards.
At the same time that he was working on this research, Ed went on the Parkinson's MasterClass, and found himself passionately sharing his current findings with his course mates. The MasterClass has always been proactive in bringing key messages from clinicians at the forefront of their areas of expertise, and Ed began delivering sessions on palliative care in Parkinson's as a speaker, and then as a permanent member of the faculty.
'There is a lot of evidence of people being very badly prepared for the end of life and taking time to listen to people, to help them plan around what happens without barriers makes a huge difference to people'.
Ed's passion for this area is evident in both his local practice and his ongoing work with the Neurology Academy. Recently moving from Northern England down to the Westcountry, Ed has begun work setting up a Supportive Care in Parkinson's (SCIP) clinic which builds on the model he set up with colleagues in Leeds. 'It's a palliative approach to care, applying palliative principles in a structured way,' he says, explaining that this form of care feels more 'sustainable' as a long-term service model. This might be anything from listening to a patient share their thoughts or concerns, to Advance Care Planning. And of the more traditionally thought of palliative care services? 'We can refer into specialist palliative care from the clinic for people approaching the end of life as needed', Ed notes.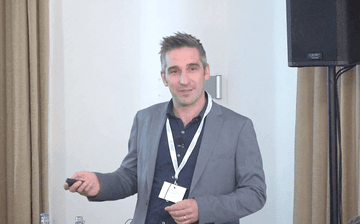 At the Parkinson's Advanced MasterClass 34A in June 2018
Having recognised that the palliative care evidence that Ed presents in the Parkinson's MasterClass is relevant to many other long term conditions, The Neurology Academy have worked with him to begin a specialist MasterClass spanning multiple neurological conditions. The first was run for specialists across Parkinson's and dementia last year, and the second is planned for March 2019 and will also be relevant for specialists in multiple sclerosis (MS). 'There's a challenge to make it both broad enough, and relevant enough,' Ed explains. By bringing in speakers from both palliative care and neurology backgrounds, the hope is to make the course both relevant and accessible to the greatest number of clinicians. 'We can upskill palliative care specialists in neurology, and neurology specialists in palliative care,' he says.
When asked what makes him proudest, or most passionate, the answer is the same. 'Palliative care is so rewarding from a practical perspective.' Ed shares that some of the first patients he had early discussions with are now approaching the end of life, and can see that their wishes, shared when they were able to really talk about them, are being met. That isn't the biggest element for Ed though. 'I think it's the reassurance to the person that someone has listened to them, rather than anything groundbreaking in the service itself.'
The card on his desk sums up why he continues to work so hard to improve palliative care for his patients and their families: 'It gave him huge peace of mind; the reassurance this his voice was relevant and heard even at the end of his life…'. To impact someone's life at the start of their journey with a long-term neurological condition and to take away some of the stress or anxiety early on about how that journey will end, surely improves the life lived in between.
Useful links:
Related articles
'The things you can't get from the books'
Parkinson's Academy, our original and longest running Academy, houses 19 years of inspirational projects, resources, and evidence for improving outcomes for people with Parkinson's. Led by co-founder and educational director Dr Peter Fletcher, the Academy has a truly collegiate feel and prides itself on delivering 'the things you can't get from books' - a practical learning model which inspires all Neurology Academy courses.