Dr Emily Henderson: Using research to revolutionise practice
News
---
---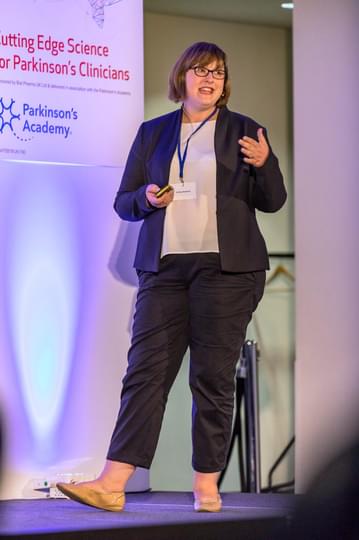 Dr Emily Henderson at 'Cutting Edge Science for Parkinson's Clinicians', July 2018
Academic geriatrician Dr Emily Henderson first became drawn to Parkinson's care early on as a registrar. Working under a consultant geriatrician with a special interest in Parkinson's, she was struck by the unique way each person experiences the condition, and enjoyed the challenge of giving care tailored to each individual. The weekly Parkinson's clinic soon became the highlight of her working week.
Later as a registrar, she worked in Australia where she was inspired by an academic geriatrician who's own falls research made her an international leader. On returning to the UK, the marriage of Parkinson's and falls seemed a natural progression in her own research work. Emily currently leads and collaborates on a broad range of research from laboratory-based work to clinical trials and innovative service delivery modelling.
Taking the Parkinson's MasterClass in the mid 2000's, Emily aimed to solidify her clinical practice. When it came to her intermodule project as part of the course, she co-led a national survey examining drug prescribing at referral to Parkinson's clinics. Working alongside these other geriatricians and evaluating practice across UK-wide movement disorder clinics, she felt encouraged by the network of specialists she was now part of.
Through a PhD fellowship she carried out a randomised clinical trial and found that rivastigmine, a drug ordinarily used to treat patients with dementia, reduced falls in people with Parkinson's by 45%. This ground-breaking research also found that patients were steadier on their feet and had a more regular walking pattern when taking the drug.
She has recently been funded* to carry out the larger, definitive Phase 3 trial and expects results in four years' time. If successful, this research could mark a real shift in managing falls, one of the most devastating complications of Parkinson's. Falls affect people with other neurological conditions too, and there is scope to translate the findings out into research for other conditions too.
Whilst the lead for a translational programme of research, Emily's person-centred passion for people with Parkinson's is very evident. Despite being a 'Geriatrician', Emily sees a whole range of individuals, from people in their 40's with early onset Parkinson's to those in their nineties and beyond. From managing a condition with a young family, to discussing end of life care, Emily enjoys supporting people whatever their stage of life with the condition. 'It shouldn't be about our label, but about the service we provide; the care we give,' she says.
She would encourage anyone with an interest in Parkinson's research to pursue it.
'It's a very rewarding condition to treat and I'm extremely passionate about supporting the next generation of Parkinson's specialists'.
* Phase 3 is being funded through the NHS National Institute for Health Research's Health Technology Assessment programme.

Useful links:
'The things you can't get from the books'
Parkinson's Academy, our original and longest running Academy, houses 19 years of inspirational projects, resources, and evidence for improving outcomes for people with Parkinson's. Led by co-founder and educational director Dr Peter Fletcher, the Academy has a truly collegiate feel and prides itself on delivering 'the things you can't get from books' - a practical learning model which inspires all Neurology Academy courses.