Dr Graham Hughes: Supporting patients' self-empowerment
News
---
---
For Dr Graham Hughes, becoming a geriatrician was an instant connection, and specialising in Parkinson's seemed to be the obvious next step –
'for me, Parkinson's is the quintessential older person's condition, impacting not just them but their family and the way they interact with their world.'
Graham explains that, with geriatric medicine, care and support is less about a specific single treatment or set of fixes, and far more about the many little changes that can positively impact someone's quality of life. Being able to help people in making these little changes is something Graham finds hugely rewarding.
Working in the Republic of Ireland, Graham notes that two of the biggest challenges are around resourcing. There is no provision of deep brain stimulation (DBS), meaning that patients have to travel elsewhere in the UK to access the service, which is a real barrier to people choosing the treatment. The limited number of clinical nurse specialists is the other difficulty. Whilst Graham's service is fortunate to have one of the four nurse specialist posts as part of his team, the predominantly rural country with its estimated 10,000 Parkinson's patients makes equity of access to a nurse impossible.
Parkinson's nurses are renowned for their education, support, encouragement and role as a lynchpin between services. Without easy access to a nurse, it is even more essential that people with Parkinson's feel educated and able to self-direct their care and manage their needs.
'Empowered people are activated to self-manage and self-direct – to find the things that make a difference to their happiness – and this is what will make a difference to their quality of life long-term,' says Graham.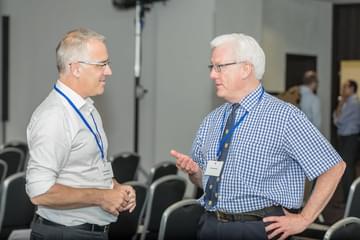 There are some advocacy groups in Ireland which are really helping to further the self-empowerment agenda, one of which is charity Move4Parkinson's. Chair of the charity's board, Graham is hugely positive about their message which comes in a simple five-step plan covering medication, movement, nutrition, emotional wellbeing and 'doing that 'crazy thing' that makes you feel better.'
Number Five is the element that Graham feels really supports self-empowerment in people. 'It's doing that thing that might not be evidence-based, but feels like it makes a difference,' he explains. 'CBD oil, for example – if a patient is trying it, regardless of whether it works, or is a placebo, or anything like that – it shows that they are thinking about other ways to manage their Parkinson's. If they've thought of that one thing, they're thinking of other things too.' Graham notes that these patients are looking for a collaborative approach to their care, and he is confident that they will do better at maintaining a level of contentment and quality of life than those people who look to the medical profession to provide everything they need.
He notes that younger people are likely to embrace the idea of empowered, self-directed care very readily, but that the older generation are more used to listening to a physician and doing as they are told until their next appointment. 'It might not come naturally, they might need to be drawn out, but with encouragement and support anyone can be empowered,' he notes. One of the things that Move4Parkinson's provides, other than a large range of evidence-based activities from singing and dancing to spinning and yoga, is community. Through one person who feels empowered meeting another and encouraging them, a community forms, and that community gives more support, more encouragement, and so the circle continues. 'Corporate services are slow to respond to need, but individual people are really influencing change,' he says.
Whilst this work is only active within the urban areas, it is a positive start, and Graham has hopes of further change in the future. Until recently they have been unable to manage any auditing of services for their 'small' population of 10,000 patients, but national charity Parkinson's UK have agreed to support this in the coming year, to identify needs and services.
'It's not about saying we need lots more resource, that's never going to happen,' Graham says candidly. 'But identifying existing resources and tapping into them, or using them differently - that can make a huge difference to how people experience their care.'
Despite the challenges, Graham finds reward constantly through his patients, and he paints a vivid picture of why a diagnosis can be the start of a positive journey.
'Seeing someone come in with a suspected diagnosis who think they know what it means, who have a picture of what someone with Parkinson's looks like…' he begins, 'and giving them education, and treatment, and therapies, and getting them into movement like a dance class - and then seeing them at their four month review so much more positive, and knowing they're on a good path…Well, that's brilliant.'
Useful links
Related articles
'The things you can't get from the books'
Parkinson's Academy, our original and longest running Academy, houses 19 years of inspirational projects, resources, and evidence for improving outcomes for people with Parkinson's. Led by co-founder and educational director Dr Peter Fletcher, the Academy has a truly collegiate feel and prides itself on delivering 'the things you can't get from books' - a practical learning model which inspires all Neurology Academy courses.