Dr James Fisher: Enabling good Parkinson's care and medication in the right way, at the right time
News
---
---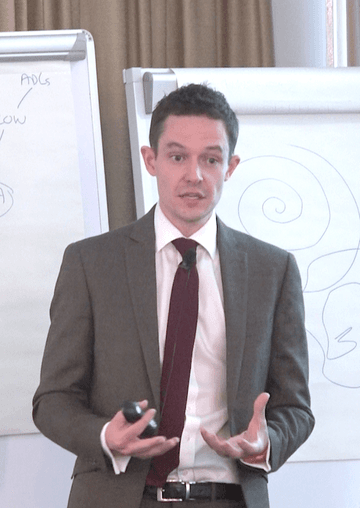 As a junior doctor working in geriatric medicine, Dr James Fisher was struck by the positive working relationships in the Parkinson's team at his hospital, and soon realised that this team-working was essential for delivering good care to people with Parkinson's. As well as professional relationships though, James could see that care looked different for Parkinson's patients.
'It was clear that the team truly knew the patients as people, rather than as 'just' patients.'
Enthusiastic about finding a specialism so invested in people, James set out to expand his knowledge of the complex condition and found the Neurology Academy through word of mouth. He began by taking the first Parkinson's MasterClass, and later came back to complete the Advanced course.
It was here that he learned a peer's experience of mapping services for her patients whenever in a new role. Inspired by this, when James took the role of consultant geriatrician at Northumbria Healthcare, he mapped all the services or staff who might be part of a person's care, living with Parkinson's. Responsible for the North and Central Northumberland Parkinson's service, the mapping exercise helped him understand the resources available locally, find any gaps in services and build links across the complex web of professionals involved in Parkinson's care.
James' MasterClass intermodule project led to him developing an online medication calculator. The management of Parkinson's in-patients who are nil by mouth can be daunting; unable to swallow their usual tablets, Parkinson's patients must still get their medication accurately and on time or risk their symptoms getting worse quickly. James' medication calculator makes sure patients get their drugs right, and on time, calculating the equivalent doses of their usual medication that can then be given via a naso-gastric or 'PEG' tube.
This beneficial tool, simplifying and optimising care for Parkinson's patients, was first adopted into James' local hospital guidelines for Parkinson's care. Recognised by the Royal College of Physicians and published in their healthcare journal, the tool is now used in centres of care across the UK.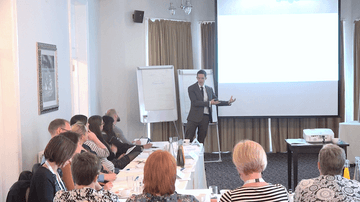 Dr James Fisher at the Parkinson's Foundation MasterClass 33F, September 2017 in Sheffield
James continues to look for ways to improve care for his patients, and feels a sense of responsibility for them. 'We need to be advocates for our patient group', he says. 'They can easily get 'lost' in the complex, often fragmented healthcare system that is the NHS.'
Britain's recent austerity drive can make working in healthcare tough at times but his initial thoughts as a junior doctor have stayed with him throughout. While inspired by his patients, it remains his colleagues who are essential in encouraging his day to day practice.
'Setting aside a bit of time for you and the team to meet to discuss challenges, share problems and to vent frustrations can be really helpful,' he says. 'I think it makes for a more cohesive team.'
Related articles
'The things you can't get from the books'
Parkinson's Academy, our original and longest running Academy, houses 20 years of inspirational projects, resources, and evidence for improving outcomes for people with Parkinson's. Led by co-founder and educational director Dr Peter Fletcher, the Academy has a truly collegiate feel and prides itself on delivering 'the things you can't get from books' - a practical learning model which inspires all Neurology Academy courses.