Dr Neil Archibald: Lateral thinking, and new ways of doing things
News
---
---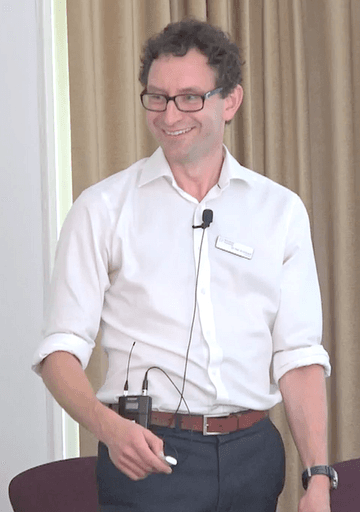 Parkinson's MasterClass 34A, June 2018
It was seeing his father's difficult journey with Parkinson's that started Neil Archibald on his own journey with the condition. Initially starting out in geriatrics, he switched to neurology after finding it wasn't the right fit for him. However, the hallmark geriatrician approach to care – holistic and person-centred – stayed with him. It is that, and a strong motivation to ultimately 'get care right' for his patients, that has driven Neil to find unique solutions to the challenges he meets.
Neil noticed that his main Parkinson's clinic, which sees patients for 15-20 minutes every six months, was an ideal service for the majority of his patients, but he noticed that every clinic, one or two people would need more time, or be facing bigger challenges in their condition. He saw that they were at a crisis point, and needed access to other specialist services quickly. He was increasingly frustrated to see unnecessary hospital admissions where referrals didn't come quickly enough.
Inspired by Professor Bas Bloem's 'Parkinson's Net' model, Neil applied for funding from the Health Foundation and was awarded a grant to set up an 'enhanced' Parkinson's service for a 12 month period. If a patient seemed critical at the standard clinic, they would be triaged into the Advanced Symptoms Unit (PASU), and given more time with a broader multidisciplinary team and home visits as follow-up. The data gathered during the year proved the cost-effectiveness of the now twice award-winning* service, and the positive comments from patients secured its worth.
The next challenge Neil saw was in effectively treating his patients who had psychotic symptoms. Clozapine, usually used in treating schizophrenia, is the only evidence-based anti-psychotic drug available for people with Parkinson's, and is approved by NICE. However, it does require regular monitoring and relies on an established structure to provide effectively, and Neil found that his patients couldn't access this system.
'There's a lot of uneasiness [amongst mental health care] in prescribing this for Parkinson's but actually, once a Parkinson's patient is on the drug, managing it is really straightforward.'
Recognising that he had the expertise in Parkinson's, and the Mental Health Trust had the infrastructure, Neil asked permission to be an 'honorary' psychiatrist so that he could prescribe the drug to his patients and use the system in place for monitoring those taking the drug. This arrangement makes things easier for his patients who don't need to be referred to a new service or explain their condition again, and it is safer for them once on the drug because they are monitored by mental health practitioners used to this element of care.
Neil is a problem-solver by nature and clearly prioritises his patients. 'There are quite a lot of relationships to manage and it's reliant on people, so if someone changes their role, it can be a bit tricky.' So what motivates Neil to keep forging these key relationships and cut the red tape? 'If it works for the patient, then it works,' he says simply.
These professional relationships have really opened up the range of services Neil is able to offer his patients; a therapy assistant who began part time work when PASU was launched was the catalyst for the more holistic care the service can now offer, such as their choir, 'the Tremorloes', and the dance and yoga movement classes they provide. 'Be open-minded about the talent that you might have in your area', he advises others looking to improve their services. 'Think laterally about what you have, and empower those people to use their energy and passion.'
* The National Patient Safety Award in 2016 and the Parkinson's Excellence Network Award in 2017
Useful links:
Related articles
'The things you can't get from the books'
Parkinson's Academy, our original and longest running Academy, houses 20 years of inspirational projects, resources, and evidence for improving outcomes for people with Parkinson's. Led by co-founder and educational director Dr Peter Fletcher, the Academy has a truly collegiate feel and prides itself on delivering 'the things you can't get from books' - a practical learning model which inspires all Neurology Academy courses.