Dr Sarah Marrinan: Person-centred care relies on relationships at every level
News
---
---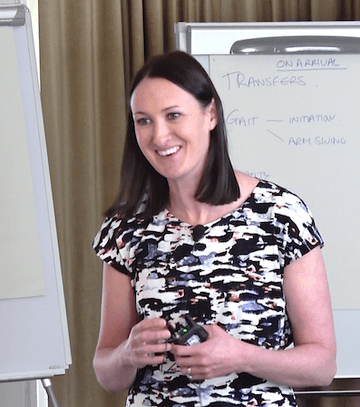 As a registrar, Dr Sarah Marrinan was intrigued by Parkinson's. With so many 'hidden' non-motor symptoms, from sleep disturbance to speech difficulties, Sarah felt that so much could be done to support people with Parkinson's and their non-motor symptoms. She kept this interest throughout her training, and developed it further in her first role in research.
Another draw for Sarah was that there is still plenty to learn about Parkinson's as a condition. She carried out research into gastric dysfunction in Parkinson's, before moving back to clinical practice after a couple of years.
One year into her clinical post as consultant within Medicine of the Elderly in Lothian, she joined an existing Parkinson's service and describes the clinic as 'one of the most interesting and rewarding' parts of her job. Her study through the Parkinson's MasterClass has given her confidence in how to deliver an effective, sustainable service whilst still making sure that patients feel they are known as a person, and are a valuable part of the team too. 'Parkinson's patients have the condition for life,' Sarah points out, and as a geriatrician, she will see the same patients over many years. The relationship she forms will be key to managing their condition.
'It's the patients that keep me interested in Parkinson's', says Sarah.
The patients she sees are well-informed and motivated. Sarah fosters a synergistic relationship with her patients. Giving them a diagnosis and helping them understand how optimising their lifestyle can help them manage their condition helps start them out on a positive journey with their Parkinson's. She encourages interested patients to consider getting involved in research to help discover new ways to treat and manage the condition and its many symptoms, and listens with interest when patients bring new articles or evidence regarding Parkinson's.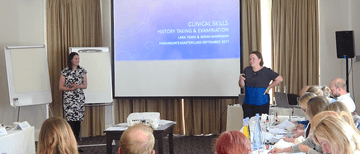 Dr Sarah Marrinan with Dr Lara Teare, Parkinson's MasterClass 2017
Sarah shares her interest in Parkinson's with the students, doctors and nurses in her hospital, helping to demystify the condition, especially when managing a patient who is unwell and nil by mouth. Alongside the experienced specialist nurses in her area, Sarah offers teaching sessions on Parkinson's. Sarah's role as a MasterClass faculty member has given her the confidence to offer more teaching in her own and other departments.
'Healthcare staff are keen to learn more about Parkinson's and they have really welcomed the opportunity,' she says.
Sarah finds providing care for people with Parkinson's very rewarding and shares her enthusiasm through her relationships: with her patients, colleagues and students.
To find out more about Sarah's role as part of the Neurology Academy faculty group, see her bio in the links below.
Useful links:
'The things you can't get from the books'
Parkinson's Academy, our original and longest running Academy, houses 20 years of inspirational projects, resources, and evidence for improving outcomes for people with Parkinson's. Led by co-founder and educational director Dr Peter Fletcher, the Academy has a truly collegiate feel and prides itself on delivering 'the things you can't get from books' - a practical learning model which inspires all Neurology Academy courses.