Education with impact: new reports to inspire and encourage
News
---
---
Our educational ethos is that every course is transformational - in that the education which healthcare professionals receive transforms the lived experiences of people with complex conditions. The majority of our courses encourage a form of practical workplace change, and it is a mandatory aspect of most MasterClasses. Whether a small quality improvement project or a larger piece of work to audit, develop or initiate services locally, we believe that education should prompt action.
All of the workplace projects are accessible online, with posters, presentations and short written summaries of projects across a wide range of themes all accessible to the public. Our aim is to provide an information repository to promote good practice, and to encourage and inspire others to unpick their services in similar ways or to replicate similar changes or developments in their own locality.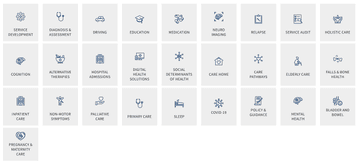 Last year, we saw a high number of local projects around common themes. We realised that sharing collections of workplace projects on a common theme within a single report could improve both understanding of the need around that theme, as well as present a wider range of examples as to how different areas and professionals are responding to that need.
Our first two 'Education with Impact' reports are around the need to support brain health and manage Mild cognitive impairment in the general populace, resulting from our first ever MCI virtual course, in 2021, and the importance of bone health in Parkinson's.
'Supportive skeletons: addressing bone health in Parkinson's to improve outcomes' details a succinct but thorough rationale for the importance of understanding and addressing bone health in people with Parkinson's, highlights existing guidance, tools and best practice, and shares seven varied examples of how healthcare professionals around the UK are building bone health priorities into their practice.

Supportive skeletons: addressing bone health in Parkinson's to improve outcomes
Download now
(PD-Bone-health-report-booklet-Neurology-Academy-20220504.pdf)
Our sincere thanks go to each delegate for their role in shining a light on both the importance of bone health, and of addressing MCI. We are very grateful that they have agreed to showcase their work more widely to improve understanding of, and optimise services for, people living with Parkinson's and those experiencing MCI respectively*.
Both are available online to view or download, and are accessible via the projects page on our website. We hope to add to these reports each year and across various conditions as another form of education provision, and a further opportunity to share brilliant examples of practical service improvement across the UK.



*A number of the projects showcased in 'Quality improvement in mild cognitive impairment (MCI): Stories from across the UK and Ireland' pertain to people with Parkinson's as well and many of the examples of quality improvement are highly relevant across neurological conditions like Parkinsons and multiple sclerosis (MS) where cognitive impairment is a common symptom.
'The things you can't get from the books'
Parkinson's Academy, our original and longest running Academy, houses 20 years of inspirational projects, resources, and evidence for improving outcomes for people with Parkinson's. Led by co-founder and educational director Dr Peter Fletcher, the Academy has a truly collegiate feel and prides itself on delivering 'the things you can't get from books' - a practical learning model which inspires all Neurology Academy courses.