Functional neurological disorder and service development
Event reports
---
---
On 27th May, 60 healthcare professionals spanning commissioning, management, clinical work and the voluntary sector gathered to hone their understanding of neurology commissioning. Find our conference overview here or read on for a better understanding of commissioning in neurology!
Dr Chrissie Burness gave an overview of the functional neurological disorder (FND) service that they have initiated at the Walton Centre, and together with Julie Riley, gave strong evidence around the impact their psychotherapy approach has had on individuals with the disorder (fig 2).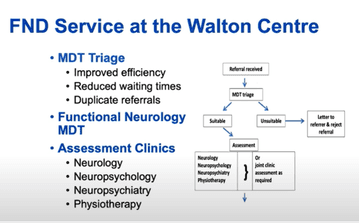 Figure 2: A slide from Chrissie and Julie's presentation on the FND service at the Walton Centre
Chrissie shared the difficulties in ensuring access to relevant services and support for those with FND, who are often passed around various services initially, and can struggle to achieve an onward referral even once assessed and held within her service.
However, she explained the evidence for treatment with psychotherapy particularly is startling, with two thirds of people improving significantly across their condition after receiving psychotherapy across a range of modalities. This includes a significant reduction in mood, cognition and dissociative seizures which in turn decreases epilepsy medication requirements and reduces emergency admissions.
Despite these incredible results, there are difficulties in managing limited resources within the service and a real need to educate the wider management team about the benefits to the wider NHS.
Related articles
Meet with strategic and operational colleagues in neurology
Join us for the Neurology Manager Network Meeting which will enable senior managers and directors in neurology services to update their knowledge on current neurology service delivery.