Getting the dose right: evidence-based guidance for physical activity in Parkinson's
Knowledge
---
---
'Such is the importance of being active, participation in exercise is perceived to be of equal importance to medication in the long-term management of Parkinson's.'
A newly published paper in the ACNR confidently states this as an opening message from the three authors - all physiotherapists - before summarising the evidence for physical activity (PA) in Parkinson's and discussing adequate doses of PA and establishing 'PA prescriptions' for three of the four stages of Parkinson's.
Sharing a helpful 'exercise wheel' (figure 1) they provide practical PA prescriptions for people newly diagnosed with Parkinson's, before establishing an appropriate prescription for maintenance and complex stages of the condition.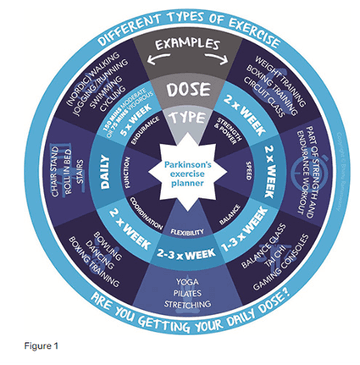 Figure 1: the exercise wheel can be used as a guide on the frequency and types of exercise to guide physical activity engagement
At diagnosis, the emphasis is on 'supporting people with Parkinson's to develop a regular physical activity habit of a minimum of 2.5 hours a week' as well as on helping them to develop 'confidence to participate in higher intensity exercise'. As with medication prescriptions, every 'PA prescription' should be modified to the individuals' needs, preferences and their unique experience of Parkinson's.
The prescriptions take into consideration the challenges of increasing motor symptoms, and the complexities of non-motor symptoms including mood, pain and fatigue as a person moves towards the Maintenance phase.
In the Complex stage, they encourage movement-related activity to continue as much as possible, with an emphasis on functional movement (movement required in daily life such as rolling over in bed or sit-to-stand), as well as the importance of adding respiratory exercises to any PA prescription.
'The lived experience of people with Parkinson's repeatedly illustrates the importance of maintaining an exercise routine for both physical and mental health, particularly if unable to access their usual programmes.'
Find the article online or via its citation:
Jones J, Baker K, Ramaswamy B. Physical activity and exercise for people with Parkinson's. Adv Clin Neurosci Rehabil 2022; https://doi.org/10.47795/FENH4822
More information
For more on the evidence base for movement in Parkinson's our on-demand, open access webinars on the subject can be found here:
The role of physical activity in maintaining healthy bones, an essential risk-reducer in Parkinson's, is discussed in our new Education with impact report, 'Supportive skeletons' featuring a quality improvement project on physical activity to improve bone health.
'The things you can't get from the books'
Parkinson's Academy, our original and longest running Academy, houses 20 years of inspirational projects, resources, and evidence for improving outcomes for people with Parkinson's. Led by co-founder and educational director Dr Peter Fletcher, the Academy has a truly collegiate feel and prides itself on delivering 'the things you can't get from books' - a practical learning model which inspires all Neurology Academy courses.