Integrating expertise: meeting wide-ranging needs in a local population
Knowledge
---
---
Introduction
The national picture has changed over the past few years and how we design and commission healthcare is not through individual services, but through integrated systems of localised care. Other changes have seen increasing numbers of health and social care practitioners involved in the core planning activities around their own population's needs. From next week - the start of April this year, every health and care agency across England is expected to be part of an Integrated Care System (Integrated Care, NHS 2020).
We have got far more expertise than ever in the proverbial 'room' to make positive commissioning decisions and integrate care across a whole local system. Service managers bring their knowledge of the overall system, and healthcare practitioners offer their expert insight into the needs of people with different conditions and how these can be met.
However, unless everyone shares that knowledge, nothing will change.
Integrated care systems and neurology
Integrated care systems (ICSs) are the new, simplified way to ensure grassroots planning and delivery of health and care services and support in a given locality. From April 2021, all areas of England are expected to be part of an ICS and to use them, alongside the primary care networks within them, to deliver optimised, population-centred services.
A significant portion of most ICS populations will belong to those with a neurological condition. According to the Neurological Alliance, one in six people have a neurological condition in the UK (Neurological Alliance, 2019a), and that number is rising, with 50 new diagnoses of Parkinson's in the UK every day (Parkinson's UK), 7,000 new diagnoses of multiple sclerosis each year (MS Society) and dementia numbers expected to increase by 80% in the next two decades (Wittenberg, 2019).
From child through adult and into old age care, they often have wide-ranging requirements spanning the whole system of care in the place that they live.
The offer of 'Place' or 'care where you are
'will be met through providers of primary care, community health and mental health services, social care and support, community diagnostics and urgent and emergency care working together with meaningful delegated budgets to join up services.'
(NHS Integrating Care, 2019)
Since neurology was de-prioritised in 2016 with the departure of the National Clinical Director and its removal from Regional Clinical Networks, local commissioners have lost sight of the importance of neurological services and rarely include neurology service improvement in their commissioning priorities. This has left clinicians striving to effect service change without the partnering support they need at a managerial level to cement that change in place.
Clearly, people living with a neurological condition stand to benefit hugely from the potential of coordinated and holistic care - the aim of these ICSs. The challenge is in how to integrate knowledge, expertise and understanding in order to deliver this care.
The latest levers: where neurology fits
When considering a local population and designing the most appropriate care, it can be easy to think of specialist areas like neurology as exactly that - specialist. However, the specialist neurological care and treatment most people living with a neurological condition receive makes up a very small part of their health and wellness needs.
The NHS Long term plan (NHS 2019) places a clear focus on a prevention agenda and an overarching set of priorities for the entire population. These are no less relevant to neurology than any other healthcare population - indeed, addressing a neurological population may have a significant impact on improvement across these priorities (Neurological Alliance: 2018).
Providing more place-based care, and supporting people with neurological conditions through primary and community services particularly regarding medication, therapies and general wellness can 'boost 'out-of-hospital' care'.
A large quantity of unnecessary emergency admissions are also preventable through more timely interventions and preventative care, with things like early detection and treatment of urinary tract and respiratory infections, both of which result in a high proportion of unnecessary admissions (Wilmington Healthcare: 2017 - figure 1) offering a simple solution to reducing admissions (priority 2).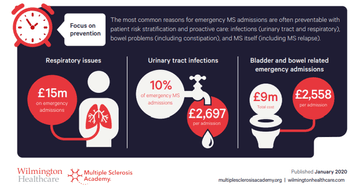 The priority for individualised and personalised care and control requires not only a shift in the way that neurological conditions are managed, but a shift in the mindsets of both the individuals living with neurological conditions, and the healthcare professionals supporting them (Peel, 2021). Indeed, by encouraging a lifestyle approach to management of neurological conditions, and supporting individuals to take control of their overall health, this will impact the priority to support NHS staff, freeing up staff time to provide the services that cannot be accessed elsewhere.
Finally, the priority to address population health as a whole can be supported by a deeper understanding that those with neurological conditions have a complexity of care not only through their condition, but through the wider health impact it often has. The relationships between comorbidities like diabetes and obesity and neurological conditions increase the likelihood of one person living with both (Magyari, 2020; de Pablo-Fernandez, 2018; O'Brien, 2017), whilst things like healthy eating and smoking cessation can have far reaching implications for brain health (Deary, 2007; Livingston, 2017; Mosconi, 2020).
Equally, those with neurological conditions often experience mental health difficulties such as anxiety and depression (Hessdorfer, 2016), whilst people with epilepsy, dementia and movement disorders like dystonia and Parkinson's can experience psychiatric comorbidities (Kanner, 2016; Lorentzos: 2020; Huang: 2020) which often goes unsupported by core mental health services. Indeed, the crossover between neurological and mental health conditions is so interconnected that some professionals have called to do away with the distinction and instead refer to diseases of the nervous system (White, 2012).
The Neurological Alliance recently surveyed over 10,300 people living with a neurological condition and 30% of those asked said that they had no access to mental health support despite wanting this (Neurological Alliance; 2019b). With a renewed focus on the mental health agenda, including the Mental Health Act reform (Wessley: 2018) and the Mental Health Implementation Plan (NHS: 2019), it is important that local population management within these new frameworks includes those living with neurological conditions.
A plethora of other useful guidance exists to support effective population planning, including the latest Quality Standard (QS198) from NICE (NICE: 2021). Published this January it provides an integrated approach to assessing and referring anyone with symptoms or signs associated with neurological conditions, spanning child and adult services and with clear directives around personally-tailored care and the use of non-specialist care for symptom management.
More specific guidance such as the Framework for Rare Diseases (DHSC: 2021)) and the 'Allied Health Professionals' competency framework for progressive neurological conditions' (2020) both provide more detailed guidance for neurological conditions which can then be viewed within the requirements of the wider population needs.
In practice
The idea of integrated services is something that people in the neurological community have been calling for over many years, and unsurprisingly there are many examples of what positive integrative working can look like.
However, it is essential to consider place-based care within the constraints and challenges of today. The coronavirus pandemic has undoubtedly had a lasting impact on how we deliver care and support, as well as placing considerable new stress on existing systems.
An example of how simple tweaks to existing service models can deliver person-centred, place-based care is the home urinary tract infection kit established by MS nurse Ruth Stross for her multiple sclerosis population in Surrey during 2020. Reflecting on the national data around the high level of emergency admissions in MS, 10% of which are due to a UTI, and local data highlighting an increasing length of hospital stays for people with MS in Surrey, Ruth was also prompted by the pandemic and stress on local services.
She decided to be proactive in preventing unnecessary hospitalisation, offering home urinary tract testing kits to people with a suspected UTI or relapse. This both ruled out a UTI as a cause of relapse, and allowed for preventative or early intervention at home where a UTI was present.

Place-based care: home urinary tract infection kit
Levers: NHS Long Term Plan:
This work supports the first 3 of the 5 practical changes to the NHS set out in the Long Term Plan:
Boost 'out-of-hospital' care

Redesign and reduce pressure on emergency hospital services

People will get more control over their own health, and more personalised care
Benefits
Low cost with a top-end total of £3.65 plus postage per patient.

Emergency admissions for MS-related bladder and bowel problems cost £9 million last year.
Challenges
Requires integrative working to ensure patients receive their home kit via post or staff delivery.
Integration
Working across specialist nursing, community physiotherapy, GPs and Out of Hours services, involving the neurologist where necessary to manage relapse.

However, not all changes to services which focus on an integrated and individualised approach are easy to make, or mutually beneficial to patients, providers alike. Neuropharmacist Joela Mathews had experienced staffing and financial benefits to her Trust from homecare provision for injectable and oral medication across multiple sclerosis (MS), HIV, cancer and more, so in response to the coronavirus pandemic and a requirement to limit people's non-essential attendance in hospital, she suggested using homecare to deliver infusions for people with MS too.
Despite homecare services being an ideal solution to some people with MS, particularly during the pandemic where infection risk, travel difficulties and solo-attendance are all challenges, there were problems in the system which disincentivised this place-based, individualised care option.
The complexities of bidding for the homecare service as a Trust, and the financial disincentive of paying for the homecare service directly, without support from NHS England, and of losing the tariff from a patient attending a clinic in hospital are all factors which place a loss to the Trust. This is despite the gain to the patient, the 20% reduction in cost for the medication and the reduced burden on staff time. She also noted that despite offering the homecare service to 300 patients, just 1% of them chose to access it, highlighting individual preferences, even during the pandemic, to attend hospital infusion clinics.
Whilst gain-share conversations with NHS England may remove some of these barriers, Joela was clear that the solution is not to move to 'homecare only' services which would overload the homecare services and 'break the system', as well as clearly going against a majority population preference to retain hospital infusions. It is clear that striking a balance will both spread the resources required and offer more individualised care according to the patient's wishes.

Place-based care: homecare delivery for infusions
Levers: NHS Long Term Plan:
This work supports 1 and 3 of the 5 practical changes to the NHS set out in the Long Term Plan:
1. Boost 'out-of-hospital' care
3. People will get more control over their own health, and more personalised care
Benefits
'Place'-based care - deliveries to home enables individuals to self-administer at home, reduced travel and attendance at hospital-based pharmacies

Savings in staff time and finances due to reduced impact on pharmacy and 20% VAT reduction through homecare versus outsourced pharmacies.
Challenges
Not a simple process - requires tendering, provider selection, legal contracts, finance and governance arrangements.

Financial misalignment / disincentive: the Trust itself has to pay for the homecare service as NHS England are not willing to consider this option within the block contract agreements, and the Trust also lose the tariff they would get from a patient attending a hospital-based clinic
Integration
Working across commissioners and providers at NHS England and local levels, as well as across secondary and community pharmacy services in line with the Hackett report (RPS, 2014).
Some examples of this shift towards healthcare without boundaries or siloed approaches is quite revolutionary. The Compassion Project in Frome has integrated services across all elements of health and social care and across many local services which are not traditionally 'health-oriented' yet have had a huge impact on individuals' health and sense of wellbeing which has in turn impacted mainstream service outcomes (Abel, 2018). By embracing the 'social relationships domain' and encouraging compassionate thought and care across the community, the project was able to reduce emergency admissions in Frome by 15% when the rest of Somerset's admission rates had risen by double that.
This groundbreaking intervention, developing and drawing on existing networks, community groups and developing self-perpetuating networks which support individuals in the everyday elements of their lives, is the first to have successfully reduced emergency admissions to hospital across an entire population (Abel, 2020).

Place-based, integrated and individualised care: compassionate communities
Levers: NHS Long Term Plan:
This work supports 4 of the 5 practical changes to the NHS set out in the Long Term Plan:
1. Boost 'out-of-hospital' care
2. Reduced emergency admissions
3. People will get more control over their own health, and more personalised care
5. Increased focus on population health
Benefits
Reduced emergency admissions by 15% when the rest of the county admissions rose by 30%

Increased perceived quality of life in individuals within the population.

Improved social connectedness in turn positively impacting health outcomes and preventing illness (Deitz: 2020; Livingston: 2017; Holt-Lunstad: 2010).
Challenges
Reliant on whole community input and buy-in

Takes time to develop and become sustained.
Integration
Entirely reliant on complete integration - indeed, blurring of lines - between individuals, the broader community and its initiatives, and every aspect of health, mental and social care, this project embodies the principles of integrated, place-based and personalised care.

Looking to the future
The heart of the prevention agenda is to enable people to remain as well as possible for as long as possible, and this wellness spans physical, mental, social, emotional and spiritual health, and the interplay between them all, as more and more evidence is confirming.
How we work together to achieve this is the key question of today - where 'we' encompasses healthcare practitioners, providers, commissioners, service users, and the full expanse of the local community.
For individuals to experience access to this breadth of wellness must rely, not only on the successful integration of services and population-based provision, but on the integration of responsibility for that care, across service users, providers, commissioners, practitioners.
We need to bring people together and share individual expertise and knowledge if we are to understand the key issues and respond to them - but to integrate our services effectively, we must first integrate ourselves.