New Bitesize course on the essentials of Lewy body dementia
News
---
---
We've developed a brand new course designed specifically to provide healthcare professionals with a basic understanding of Lewy body dementia (LBD). Whatever your role or current knowledge, this series of short talks from experts in the field will equip you with a solid grounding in LBD and the confidence to appropriately support those living with it.
Lewy Body Bitesize is a free online course featuring a series of sessions lasting between 8 and 15 minutes each around a range of topics, from diagnosis to management, honing in on specific aspects of care like autonomic symptoms and hallucinations.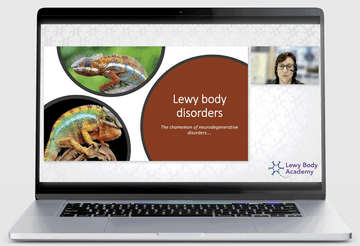 There are currently 10 sessions in the course which can be watched in any order, as often as needed, and over any time period. So, whether you prefer to set aside an hour and a half of dedicated learning time, process slowly over a few months, or dip in and out depending on your interests, it's entirely up to you.
Register now ready for the course by following the event link below!
Lewy Body Academy
Focussing on dementia with Lewy bodies (previously known as Lewy body disease), and Parkinson's disease dementia, this specialist training ensures people with these dementias do not fall through the gaps in care.