New MS prevalence data and smoking statistics
---
---
A new briefing from Public Health England has issued new prevalence data on MS and links with smoking. Seeking insight into the characteristics of people with MS, the briefing was developed in collaboration with the MS Society and using the THIN dataset.
The evidence, which was gathered over an eight year period from financial years ending 2009 through to 2017, showed that the incidence of MS in England has remained consistent, with an average of 4,950 new cases diagnosed and recorded in primary care records each year.

'Multiple sclerosis: prevalence, incidence and smoking status - data briefing' suggests an estimated prevalence of 190 cases per 100,000 population, or 105,800 individuals in England living with MS. More than twice as common amongst females than males, women in their fifties are three times more likely to have MS than men of a similar age.

Whilst we know that MS can affect people from a young age, even from childhood, three quarters of those living with MS are aged between 40 and 74 years.
The briefing also examined smoking rates amongst those living with MS. We know that smoking cessation is strongly encouraged amongst people living with MS because of evidence suggesting both increased disease susceptibility and rate of disease progression (Wingerchuk, 2012).
The briefing found that both men and women with MS are more likely to be ex-smokers than the rest of the general population, positive in that this also documents cessation rates. However, smoking rates amongst males with MS are likely to be higher than those in the general population.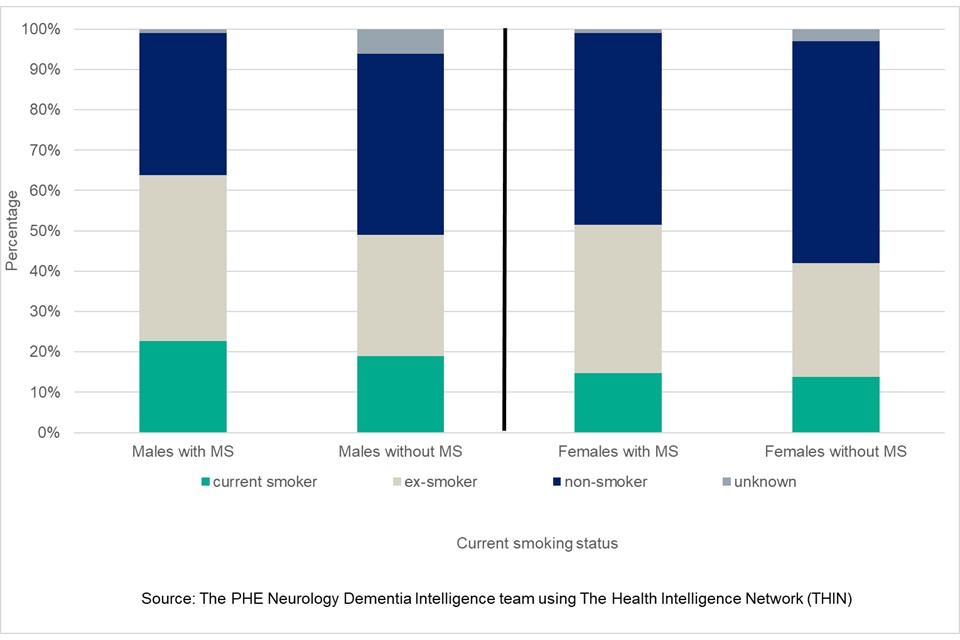 Taken from the PHE briefing, Feb 2020
The National MS Society of America, who have well-referenced guidance on smoking cessation and MS, states:
'People who smoke will also progress to secondary progressive MS at a faster rate than non-smokers and have greater risk of increasing disability. The disease modifying therapies may not produce the same effect in those who smoke.'
(www.nationalmssociety.org/smoking)
The UK MS Society also have clear, accessible guidance, and detail responses to some of the myths held, such as that smoking alleviates stress, or that vaping or smoking cannabis is less harmful to health.