Our first virtual course in spasticity…
News
---
---
This year saw the launch of brand new education in spasticity through a newly formed Academy and a five-module virtual course about spasticity intended for non-specialists.
The course had one of the fastest sign-up rates we have seen, with 268 applicants in total, and reached our maximum total of 150 people within days.
With core videos, 'deep dive' content, and plenty of additional resources, the course provides non-specialists with a firm understanding of non-specialist management of spasticity and referral pathways into specialist services, and has received feedback ratings of 4 or 5 out of 5 consistently throughout the course.
Attendees are predominantly specialist nurses and therapists from various backgrounds, trainees through to specialists in neurology or rehabilitation. There are also a high volume of doctors, and some neurologists and geriatricians, too.
Delegates have been invited to ask questions in readiness for a live virtual session with the speakers in 2023; those submitted have ranged from mechanistics of focal spasticity to ideas for managing extreme contracture in the hands.
On 8th December, we received additional sponsorship for the course from Abbvie, and are delighted to now be opening the course to the 118 waiting delegates.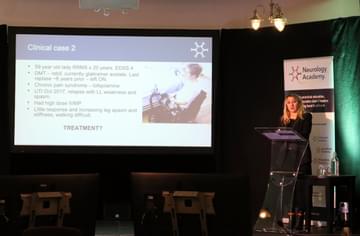 Dr Rachel Farrell recording for our Spasticity Basics course
Optimised education, compassionate care
Spasticity Academy seeks to address inconsistencies in service delivery and raise the level of care patients can access through improved awareness and understanding of spasticity across conditions.